After working with Bobby and Darla for almost four years looking for their Lake Martin home we finally found THE ONE.  Our closing date was set in September for their Lake home located in the River Oaks neighborhood of Lake Martin.
Settled in and obviously enjoying the Lake I received this Twitter message from Bobby: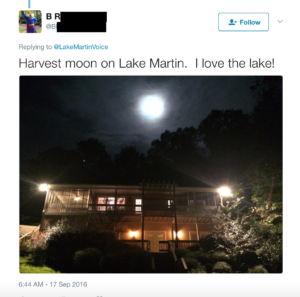 I bet Bobby and Darla have enjoyed many beautiful views from the porch of their lake home. As a Lake Martin realtor I can help you find your Lake Martin view. I'd love to help you out with your Lake Martin search, so call me at 334-221-5862, or CLICK HERE to contact me.