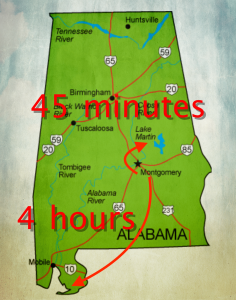 It is your choice – drive an easy 45 minutes to 75 Oakcrest at Lake Martin or drive a long, congested 4 hours to Gulf Shores?
That is right. If you live in Montgomery and are looking for a little rest and relaxation, 75 Oak Crest Drive in Eclectic is only 45 minutes away. Focus on racking up a ton of great experiences instead of miles on your SUV and points on the blood pressure cuff.
75 Oak Crest Drive is located in the popular Little Kowaliga/Real Island area of Lake Martin. The home has 4 bedrooms and 2 bathrooms, a large screened in porch, a bright, open floor plan, tile floors, beautiful wood ceilings and a stone fireplace – all on one level.
The lot is huge with over 350 feet of shoreline and is wooded and private. There are 3 docks (no, that isn't a typo). There is the main dock and guest dock that look out to the big water. And there is a smaller fishing dock tucked to the left side of the lot at the opening of the slough area.
So you live in the Birmingham area? To get to Gulf Shores driving on the heavily traveled I-65 would take you about 5 hours. The drive to 75 Oakcrest Drive would take about 2 hours. A better drive to minimize stress and maximum fun when you arrive at Lake Martin!
Listing price is $549,000.
For more information on 75 Oakcrest Drive click here or contact Listing Agent John Coley at 334-221-5862 or by clicking here or email him – [email protected].