Happy Plug Day 2016 from John Coley!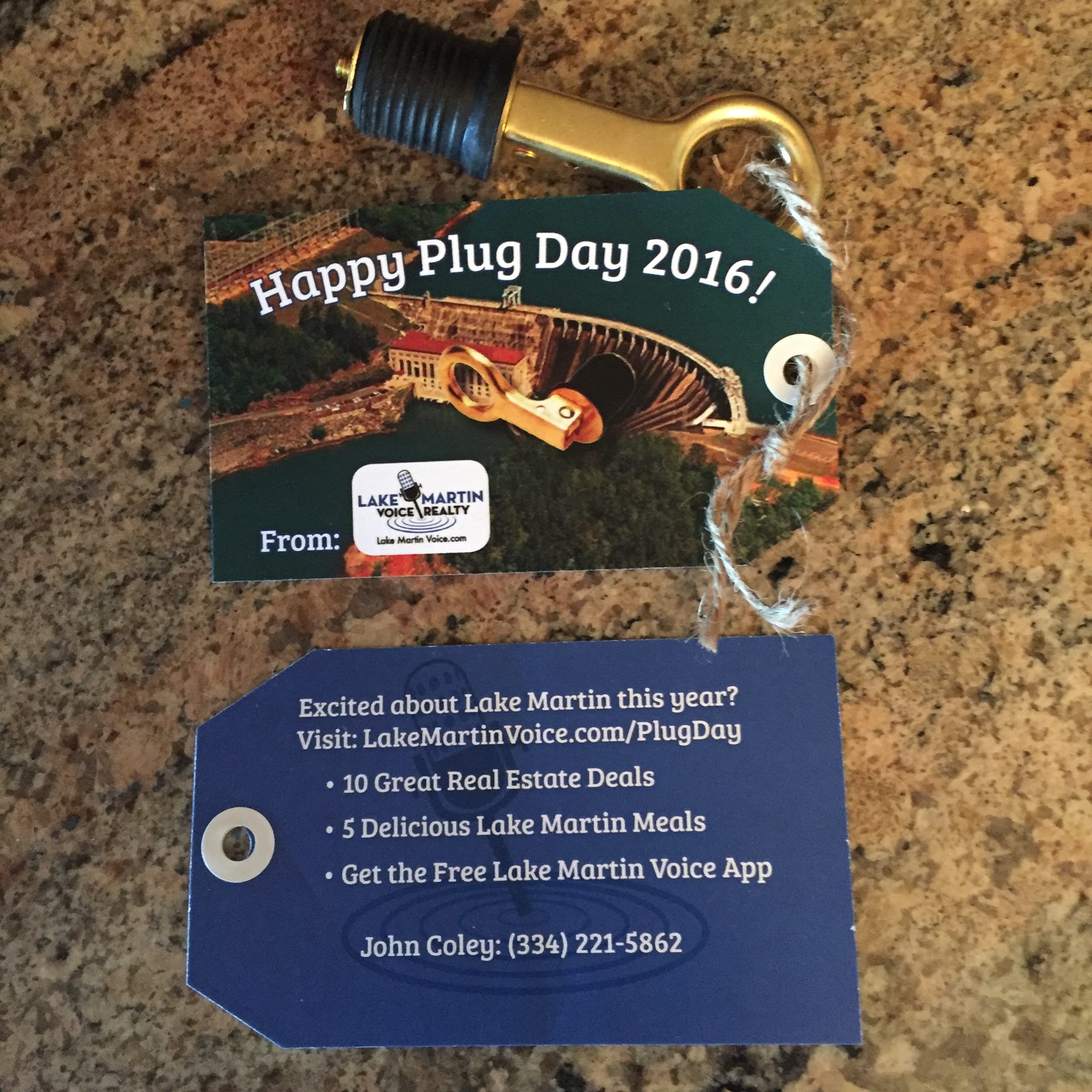 You made it to this page! Congratulations! Even more important, you made it to Plug Day!
"Huh?" you say?
March 1, 2016, is Plug Day at Lake Martin!! Yes! That's the day that we put the plug in Martin Dam and the lake starts filling up. Sure, it's cold now, but pretty soon we'll be summerizing the boat and testing the mirror to see if we still fit in last year's bathing suit. It's time to hoot and holler!! To celebrate, I've compiled some fun lists and freebies:
Real Estate:
This wouldn't be a real estate blog if I didn't try and sell you something, right? Here's a short list of some of the 10 Best Real Estate deals on Lake Martin right now. They're a hodge podge – My listings. Your listings. The other agents' listings. To see them, please click: 10 Deals
Eats:
Are we experiencing the golden age of dining around Lake Martin? Maybe. There are tons of spots to get great food both on and off the water these days. I tried to list 5 Great Meals but we all know there are way more than five. For example, let's be honest – who among us can pass by the Nibbler's boat and not think about ice cream? Served by Lake Martin's finest waiters, waitresses, waitpersons, and waithobbits, here's a list of 5 Great Meals Around Lake Martin!
My Free Lake Martin Voice App:
Seriously? You still haven't downloaded my free Lake Martin Voice app from iTunes or Google? Not only does it have the coolest Lake Martin real estate search around, but it's the easiest way to keep up with Events, Restaurants, Shops, Marinas, and everything else LM. Here's my page that describes more.
Thanks for visiting this page and reading this far down! You are one of the few select.
Your friend,
John Coley
Lake Martin Voice Realty
Blogger / Broker / Agent / Owner / Dad / Husband / Biological and Adopted Son / Amateur Fly Fisher / Non-Muscle Upper / Flip Flop Wearer / Bird Watcher / Friends With a Guy With Bee Hives / Scattered, Covered, and Chunked / Wax Melter / Closer of Open Doors / Turner Offer of Lights / Kung Fu Watcher / Reading Glasses Newbie /Disabuser Of Luck / Professional Indignity Sufferer/ Fan of Econ 102