Sea Ray and Russell Marine are once again bringing Aquapalooza to Lake Martin, Alabama, – on July 23, 2011.
Aquapalooza is a free, on the water concert that you can boat up, anchor, and go dance by the stage.  It is tons of fun, and, in my opinion, becoming the 4th big lake holiday behind Memorial Day, 4th of July, and Labor Day.
Lake Martin has experienced two really big Aquapaloozas – the nationally promoted signature event in 2009 featuring Alan Jackson, and this pretty doggone big event in 2010 with John Anderson.
In 2011, the headliner is Sawyer Brown.  Here's the full lineup:
Lake Martin Aquapalooza 2011 Lineup
Sawyer Brown
Rhett Atkins
Chase Rice
Derek Welsh and the Cold Hard Truth
Lake Martin Aquapalooza 2011 Schedule
11 AM – 7 PM on July 23, 2011.
Memo to all you fast timers – we're on Central Time.
Lake Martin Aquapalooza 2011 Setup Tips
The prior years of fun have given us all some valuable experience. I shot a quick video below to go over some tips for Aquapalooza on Lake Martin.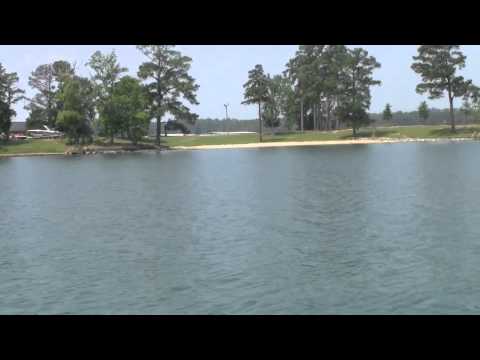 Here are some more Lake Martin Aquapalooza 2011 tips:
Have a sober driver and sober spotter – I say this in the video but it's worth repeating. The driver will need someone at the front of the boat that is looking out for other boats, swimmers, kayakers, etc.
Obey all Alabama laws – if you're coming from out of state, study up.
Idle speed only – west of Kowaliga Bridge is idle speed only until you get to Governor's Island. The surest way to get pulled over by the AL Marine Police is to be above idle in this zone. Make even the smallest wake and they will hammer down on you.  Quite frankly, you deserve it.
If you anchor up, use an anchor line – so many times I see folks throwing out their brand new mushroom anchor that is tied to ski rope.  Bad idea. It may be easy going down, but at the end of the day when you are hauling in 75 feet of it, and it's slick, that thin ski rope will burn your hands.
If you swim to the stage, use a PFD – it looks like a short swim, but trust me, you will get tired. Swim with a life vest on your person.
Bring twice as many boat bumpers than you think you will need – even if you only use 2 to attach to your pier, you will need a bunch more when your friends (old and new) sidle up to you and anchor with you.
Buy all your provisions locally – OK, so I'm a big believer in supporting the Lake Martin locals, yes.  But on the practical side, I can tell you that the local C Stores will have plenty of ice, snacks, and beverages.  It's the same price as your hometown's.  Unless you just like to load a cooler 2 days in advance, the smart move is to get it in theater.
Take plenty of pics and video – you won't believe how much fun it is to look at them later.  Local Lake Martin photographer Kenneth Boone usually has the best ones on his SmugMug account here.
Tweet it out – if you're on Lake Martin and hip to twitter, use hashtags of #lakemartin and #aquapalooza and @SeaRayBoat
Check in on FourSquare – there's a musical event set up on Foursquare – Aquapalooza on Lake Martin
Homes For Sale On Lake Martin Near Aquapalooza 2011
Do you have some time to kill, and maybe would like to cruise by some waterfront homes that are for sale near Lake Martin's Aquapalooza site at Kowaliga Marina?
Click on the Request List link below:
CLICK HERE TO REQUEST HOMES FOR SALE
You will be asked for your name and email, and then you will be emailed two lists we have compiled of waterfront homes for sale on Lake Martin right now. One list is east of Kowaliga Bridge, the other is west of it. This list is from the Lake Martin Area Realtors' MLS, so it's any brokerage's listings, not just mine.  Also, don't worry, we DO NOT SELL, GIVEAWAY, or otherwise distribute your info.
Have a fun and save Aquapalooza 2011 on Lake Martin!
Aquapalooza 2010 on Lake Martin was not Sea Ray's "Signature Event" this year, but all reports indicate that it was very well attended.
Here's a quick video I shot of the early hours of the concert: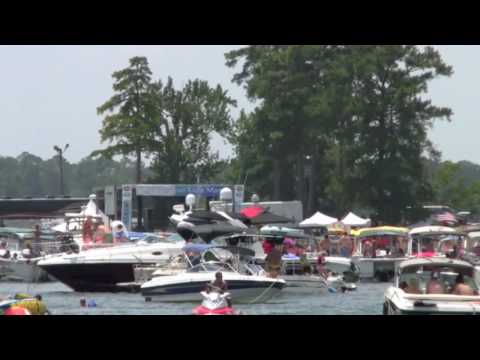 Depending on whose estimates you read, anywhere from 15-20,000 people showed up (as compared to 25,000 last year).  That's a lot of folks.
It was a lot of fun.  My family (yes – I brought kids) anchored up with some really nice people from Columbus, GA and spent most of the afternoon floating in our tubes. We made it up to the front and hung out at the stage, and saw lots of friends along the way.  We made the swim back to our boat just before John Anderson started playing.  For those of you who have not made it to Aquaplaooza yet, we've decided the raft/tube/float is key.
We want to thank Russell Marine and Sea Ray for what has turned out to be not just one of the best events on Lake Martin, but one of the best summer events in the southeast.
Once again, local photographer and newspaper baron,  Kenneth Boone, aka "Mr. Perfect,"  has what I think is the greatest collection of pictures from Aquapalooza.  If you'd like to see if he caught you in the action, check out his gallery here.
Lake Martin's Aquapalooza 2010 is this Saturday, July 24th.  The free concert is from noon to 7 pm in front of Sinclair's restaurant in the Big Kowaliga area of Lake Martin (by Kowaliga Bridge, aka Highway 63 Bridge).
The featured artist, John Anderson, will wrap up the show (Think, "Seminole Wind").
I went by Kowaliga Bridge this morning and shot some video of the set up.  The logistics worked last year, so bring your boat and enjoy a really fun afternoon on Lake Martin.   Take a look: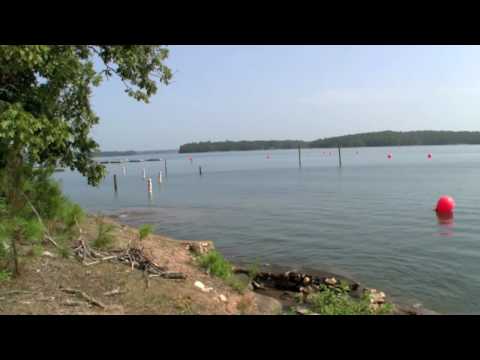 What: Lake Martin's Aquapalooza 2010
When: Saturday, July 24,  12pm -7pm
Where: In the Kowaliga area of Lake Martin between Church in the Pines and Sinclair's Restaurant (off of Highway 63)
Reservations: not required
CMT will air Alan Jackson's Aquapalooza Lake Martin concert tonight at 7 PM central.
Aquapalooza, which was truly Lake Martin's biggest party ever, was on July 25, 2009.  CMT filmed the whole day, all acts, and will air the show:
Friday, September 4, 2009 – 7 PM Central Time, 8 PM fast time and left coast time.
Replays will be September 5 and 6 at 8:30 AM Central.
u
Aquapalooza 2009 at Lake Martin proved to be a huge success.
I will admit to some head scratching in the time leading up to the event.  How would all those people be shuttled to boats?  Would there be enough anchor room? Would there be enough police?
Russell Marine, Sea Ray, the Marine Police, and Alan Jackson all delivered on a great Lake Martin experience.  It truly lived up to the hype of the biggest party ever on the water at Lake Martin.
Sure, the lines were long for the shuttle boats. Sure, there were hundreds of swimmers in the way if you were boating up and down the lanes.  Towards the end of the afternoon you needed someone in the front of the boat to yell "Move!"  Sure, traffic was congested when everyone left after the Alan Jackson show.  But all in all, it was very well done, and very safe considering the huge numbers of people that showed up.
As I said above, Russell, Sea Ray, and Alan Jackson deserve a lot of credit.  But I will submit that Lake Martin Dock Company should be right in there deserving some praise, for three reasons:
1.  They worked (almost) round the clock for weeks setting up the intricate anchor system that literally kept the flotilla together.  They also supplied much of the barges, marine equipment, and infra structure.
2. The Love Shack! – see the above pic.  Larry Bain and Sharon Johnston had the most creative and festively decorated spot to watch the concert.  They had an old covered floating dock that they transformed into a fun, shady party structure.  The Love Shack was complete with plants, Smith & Hawken lounge furniture, a gas grill, and a port o potty (with shoji-esque modesty screening).  It was a watermark for everyone at Aquapalooza, as in "go to the Love Shack, hang a right, and we're the fourth boat on the right."
3. Hospitality – Larry and Sharon and family were kind enough to have my wife and I on board for the day.  It was so nice! We are in their debt.
The Music At Aquapalooza Lake Martin 2009
We had to leave before Alan Jackson played. We were sad to go but didn't want to burn our kid sitters out.
I must say that my favorite act was Jypsi.  They were a young band, were yankees, and looked like the B-52s mashed up with the White Stripes.  Looks deceived.  They played some mean, fast, crisp bluegrass. I was loving it. When they cut into Muleskinner's Blues, I got chill bumps in the ninety degree weather.  I think even my Kentucky buddies would have approved.
More Lake Martin Aquapalooza / Alan Jackson Pictures And Video
Professional:
At the risk of hurting Sea Ray's feelings, I submit that the best professional pics of Aquapalooza were taken by Kenneth Boone. Kenneth (known around town as "Mr. Perfect") is the newspaper baron in Alex City, and is one of the best photographers I have the pleasure of knowing.  He has outstanding aerial photos, band pics, and the best collection of crowd photos that I have seen. See below for the link, sorry I can't figure out how to embed the slide show:
Link to Kenneth Boone's Lake Martin Aquapalooza Photo Album
Amateur:
There are tons of amateur photos of Aquapalooza on the web.  More being added every day.  The best collection of them that are outside of social networks are posted on Bruce Pate's Lake Martin dot com.
Aquapalooza Lake Martin Video:
Here's a quick link to the search results for Aquapalooza Lake Martin on Youtube
Also below here is my video from the Love Shack: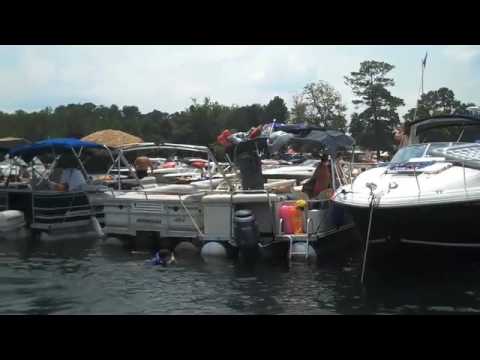 and also one that Palmer (you can hear her laughing at me) shot of me getting interviewed by CMT. My (dwindling list of) friends are already sick of hearing about it, and I am sure that I will not make the final edit, but here it goes: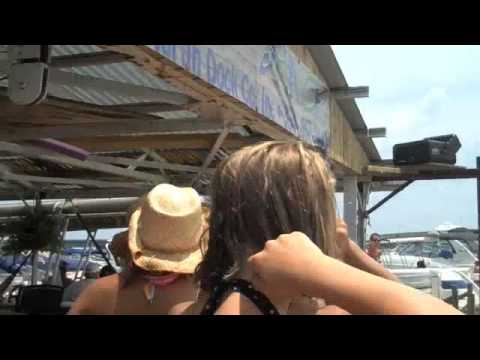 By the way, if you still have not totally lost respect for me from that goofy interview,
and you are interested in Lake Martin waterfront real estate- please contact me.  I would love to help you!
Here's what the Lake Martin Aquapalooza  / Alan Jackson stage, boat anchor lines, and swimming area looks like on Friday July 24, 2009.
The music schedule is:
11am – Nationwide Coverage
12:45pm – Jypsi
2pm - Caitlin and Will
3:15pm - Matt Stillwell
4:30pm - Carter Twins
6pm to 7:30pm – Alan Jackson
PLEASE NOTE – the entire area west of Kowaliga / Highway 63 Bridge is a IDLE SPEED only.  The police WILL pull you over and give you a ticket.
The stage:
More Pictures: Slideshow of Lake Martin Aquapalooza Pictures
Also: Pictures of I Love Lake Martin Flickr Group
Notes to the wise: PLEASE make sure that you have at least one sober assistant to help the designated driver (who also should be sober). Make sure that you comply with all Alabama boating laws and regulations.
The best way to get pulled over is to drive recklessly or above idle speed in the concert area. In the 10 minutes while I was taking the above video and pictures, I saw 3 boats / sea doos get pulled over for going too fast. I have also heard of several (deserved) arrests in the past couple of weeks, so be warned, the police will take no guff from wise cracking hoolligans. Have fun, but be safe and be respectful of the law. They are trying to save our lives.
Yep, you heard it right.  The organizers of Aquapalooza 2009 are building a stage on the edge of Lake Martin for Alan Jackson.
And the only way to see the concert is on the water, by boat.
It's an all day event on Saturday, July 25, with music starting at 11:30 AM and Jackson headlining at 6:00 PM.  Since safety is an issue with an event this size, the concert will be over before dark.
According to The Wetumpka Herald, the stage will be built at the water's edge, over on the western side Kowaliga Bridge near Sinclair's Restaurant. There will be a swimming area and dance platform directly in front of the stage.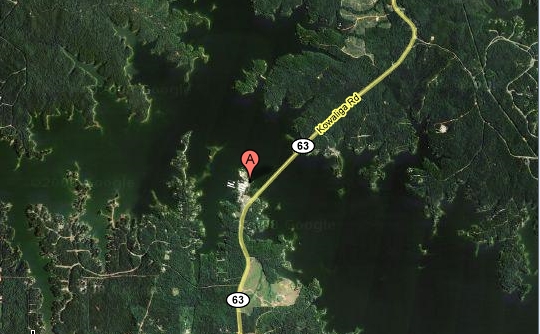 Click here for a Google map of the Aquapalooza 2009 Lake Martin location.
If you want an upclose view of Jackson, get there early (boats can begin "rafting up" on Friday at 2:00 PM Central).  And please, have at least one sober driver and one sober first mate per boat.  The driver will need to be alert to maneuver, and the mate will need to be the extra set of eyes and help fend off other bumping boats.
There will be mooring buoys with lines in Kowaliga Bay. Attendants on Sea-Doo® watercrafts will direct traffic and helping with boat mooring, and a shuttle service will help you to and from your boat.
Questions about this concert?  Here's a link to the offical Aquapalooza 2009 website FAQs.
Have fun and be safe.