Lake Martin's water level is low this year, and it could get even lower.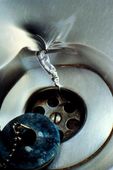 Alabama Power says that Lake Martin's water level started dropping on May 18 and "could be much lower on July 4."
It is no news flash that Alabama and much of the southeast has suffered a severe drought so far in 2007. This follows on the heels of a dry 2006. Since part of Lake Martin's existence depends on it maintaining a certain level downstream, it has been affected.
The folks at Alabama Power are not optimistic: "most streams that feed our lakes are at the lowest levels ever recorded."
Lake Martin usually is filled to full pool, or 490 feet above sea level, by May. As of May 15 it was just under 486, and dropping. They are even reporting to FERC about the lower water flow.
Again, a quote from Alabama Power: "Martin is not expected to fill above 486 and will begin to drop May 18."
Get used to it folks; prepare yourselves for reality.
Alabama Power owns the hydroelectric Martin Dam that dams the Tallapoosa River, creating Lake Martin. They control the water level to try and balance their power generating needs with ecological effects, recreational effects, and the commercial navigation of the Alabama River, which is downstream of the Tallapoosa.
Alabama Power is currently distributing the word through news agencies and their own press releases that we had better be ready for a long, dry summer.
Related Posts:
When Does The Water Level Go Down On Lake Martin?
Mythbuster: Alabama Power Leased Lots – Lake Martin