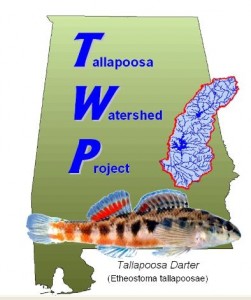 The 5th Annual State of Our Watershed Conference, The Tallapoosa River Basin –Moving Toward More Effective Water Policy will be at the Betty Carol Graham Technology Center at the Central Alabama Community College in Alexander City on Wednesday-Thursday, May 13th-14th, 2009. This year's conference will focus on moving toward sustainable water management policy for the Tallapoosa River Basin.
This year's organizers and sponsors include the Auburn University Water Resources Center, Alabama Water Watch, the Middle Tallapoosa Clean Water Partnership, Lake Watch of Lake Martin, the Montgomery Water Works and Sanitary Sewer Board, and Central Alabama Community College
Go to www.twp.auburn.edu and, under TWP Highlights click the 5th Annual State of Our Watershed Conference link to go to information on the conference, including the Tallapoosa River Basin Management Plan (8.2 megabite pdf file), conference announcement, and conference registration (required for lunch headcount), and additional information.