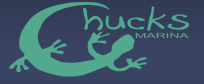 The website for Chuck's Marina on Lake Martin says it best, so let me quote:
"The Marina beckons boaters like a Key West dream, with brightly colored buildings ranging from deep turquoise to lime green.  It's a perfect place to dock and enjoy the lake view."
(The restaurant also serves a great pizza!) But PLEASE don't call me to place an order. Call Chuck's at 256-825-7733 to order pizza. If you call me, I will either try to sell you Lake Martin real estate or I will play a trick on you and say that you're the lucky winner of four free pies. Or both.
If you haven't been to Chuck's yet, it's a must-do on your next Lake Martin adventure!
If you are in fact interested in a Lake Martin waterfront home, lot, or condo, please call me at 334 221 5862 or email me on this form.