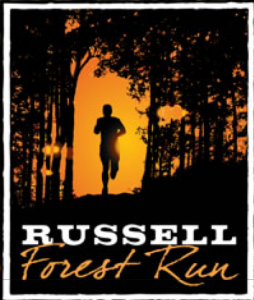 Attention runners (and walkers):  Click here to register for the 2nd Annual Lake Martin Russell Forest Run on Saturday, February 26, 2011!  If you haven't explored the new Russell Forest Trails yet, this is a great way to experience a part of this 20,000+ acre trail system that lies a little north of Kowaliga Bridge, off of Highway 63.  It's also a good reason to make a winter trip to Lake Martin.
I had a good time running the 10K last year, so I'm signing up again. The registration website describes the terrain as "gently rolling," but since I am used to training on some pretty flat ground, it was more than gently rolling to me.  And a little chilly.  But definitely a fun time.  There is a 5K option this year, and you can always walk if you don't like running.  Oh – and the shirts they gave out were that cool, athletic "breathable" kind, – a step up from yet another cotton t shirt (for 10K runners only).  Maybe they'll do that again.
I'm looking for runners and walkers to join the Lake Martin Voice Realty team, and I'd love for you to sign up with us when you register.
Here's a quick video clip from last year's post-party
[flickrvideo]http://www.flickr.com/photos/lakemartinvoice/4392375473/[/flickrvideo]
I recently filmed a hike my family took on some of these trails.  To get a sneak peek at the roads you'll run, check it out:
Looking forward to seeing you there!