Usually I don't write much about national real estate issues.  I just don't feel like I am an expert, plus, there are always places to get that kind of news. Fox News, WSJ, MSNBC, I am not.  There is enough going on here in the Lake Martin real estate market to keep me busy.
So please allow this exception to that rule. Last month I read an interesting article in the Wall Street Journal by Geoffrey Fowler and Angus Loten entitled "Old Watchdog Needs New Web Tricks."  It's about the Better Business Bureau's shrinking membership and relatively ineffective feedback techniques (to wit, Yelp.com gets seven time their web traffic.) I separated the article from the normal recycling and vowed to write a blog post about it.  A month later, here we are.
While I was reading it, I couldn't help but mentally substitute the NAR (National Association of Realtors) every time I read BBB.  From my perspective, the NAR is all but useless.  Their educational efforts are second rate, there are much better conferences and webinars out there for next to free.  Despite their feel good advertising, real estate agents continue to be perceived as less than hard working and trustworthy.  Lobbying lawmakers is their only success story, but I strongly disagreed with their nanny state lobbying efforts during the 2008 "bank collapse."  I continue to respectfully disagree with their constant cries for government subsidies and tax incentives for home ownership.  How can we oppose subsidies to one industry and call for them in ours, and still take ourselves seriously? Alas.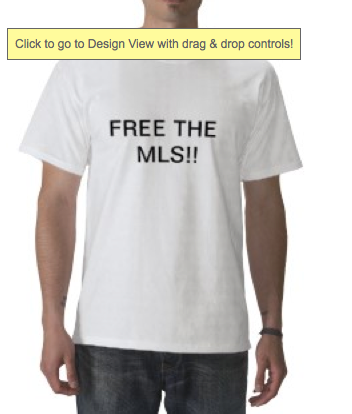 I was reminded of this long overdue post when I was in Atlanta at a tech conference last week called RETSO.  RETSO is a great example of why NAR and the state associations need to be out of the professional education business.  Conferences like RETSO give me enough material and inspiration to last more than a year. They are cheaper, not subsidized by any dues, and way more relevant.  (Sidebar – I didn't get Continuing Education credit because the Alabama Association of Realtors doesn't recognize it.)
Anyway, at that conference, a fellow named Rob Hahn was speaking about the future of the NAR and state associations. He made the point that these days a significant portion of Realtors are dissatisfied with these associations and are only members because we have to be to get access to the MLS.  He called for the MLS and the Associations to be separated, to allow people a choice of being a member of one, another, or both.
I clapped loudly.  One or two other people in the crowd of 300 timidly joined my applause.
Mr. Hahn then went on to make the point that a smaller NAR would be better, because all the members would want to be there, instead of being forced to be there to have access to the MLS.  He made the example of the NRA, a passionate group that is all about lobbying.  Maybe he's right. I do know that separating out the MLS is a great idea.  I say, so what if NAR loses members?  Should that be our goal, to have a large membership base?
Or is the goal to be great servants to people who need help with real estate?  That's my goal.
Let's say NAR has 2 million members, and then increases in one year to 4 million. How does that help me help a buyer more effectively? Am I automatically a 100% better listing agent because of it?  Please.
Here, here, Mr. Hahn.  Free the MLS, I say. Maybe I should make T shirts.  No offense to the NAR or its many members.  Who knows, if they shaped up, maybe I would join in on their new journey.  Until then, they would be welcome to continue going to conferences to hear Regis and Lou Holtz and Lionel Richie teach them about real estate.