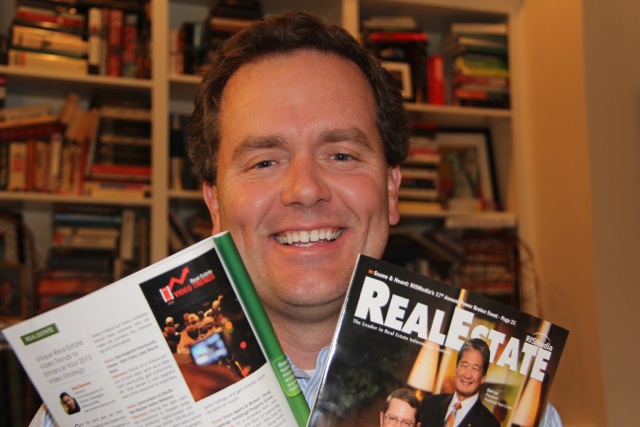 I was honored to be recognized by RISMedia's Real Estate magazine as one of twelve trend setting brokers from around the nation who use video in a unique way to help people with real estate.
Rudy Bachraty wrote, "we interviewed leading real estate brokers and brands and identified a number of unique real estate video trends occurring in our industry. Here are the key takeaways."
I am so flattered to be included in this group! Most are from large metro areas like NYC, so it is exciting to me to be in the same breath as this crowd.  The article appeared in their magazine's December 2012 issue and also online here.
The National Association of Realtors estimates it has about 1.2 million members. Of those 1.2 million, it is estimated that only about 1%, or 12,000 agents across the country, are using video to market real estate. This number hasn't really increased in the three or so years I have seen people talk about it. Why? I have no idea, because I think that video is such a no brainer in real estate.
It's hard to write a blog post like this without sounding like I am boasting, so please don't take it that way. I really am shocked that, out of all the agents in the nation, Rudy was kind enough to include me as an example among agents and brokerages that I watch on HGTV and read about in the WSJ. Really I see this as a victory for Lake Martin, which, in comparison, is such a tiny second home waterfront market.
I would like to thank my clients, friends, family, blog readers and video viewers for coming up with great questions about Lake Martin. I started using online video to answer questions, and it continues to be a driving force behind all of my marketing.
The best part about being included as one of the top 12 trend setters in real estate video is that it has called my attention to brokers that are doing such a better job than I am. I encourage you to click on the article link above, and check out the list. There are some really talented folks there, and I am motivated by their excellence. I realize I am merely hitting the record button on most of my videos, so I plan to get much better at this in the future.
In the meantime, please visit my video page on this site. I break my videos into three categories or channels: 1. Home Tours, 2. Neighborhood Tours, and 3. Community Info. Click the thumbnail pictures to make each of them play in the main space, and click the little arrows in each player to scroll to more.
If you have any suggestions for me on what to video or how to do it better, please contact me and let me know!  Thanks!
Related Posts:
Real Estate Video Trends: John Coley and Geo-Targeted Waterfront Community Videos
Creating a Real Estate Niche with John Coley
John Coley Teaching Real Estate Video Class at REtechSouth