Lake Martin developer, Russell Lands, is expanding in Phase III of The Ridge.  They've had plans to do this for a while, but the old Dixie Sailing Club occupied part of that area designated for Phase III.  When Lake Martin's real estate market picked up, Dixie Sailing Club's location was moved to a new location in Young's Basin.  Once the club was moved, the signs were clear for everyone that Russell Lands felt optomistic about the future of waterfront real estate and Phase III in The Ridge.
On Columbus Day, I was out on the boat doing market research – by that I mean my family was taking our the last tube ride of the year on a beautiful, sunny, October Monday.  I saw some smoke billowing up from the old Dixie Sailing Club area near Chimney Rock, so I drove closer to check it out.  Russell Lands had their heavy equipment out, tearing down and burning the old Sailing Club cabins.  Check out the picture and video below of the house-less docks, the burn pile, and the big machines.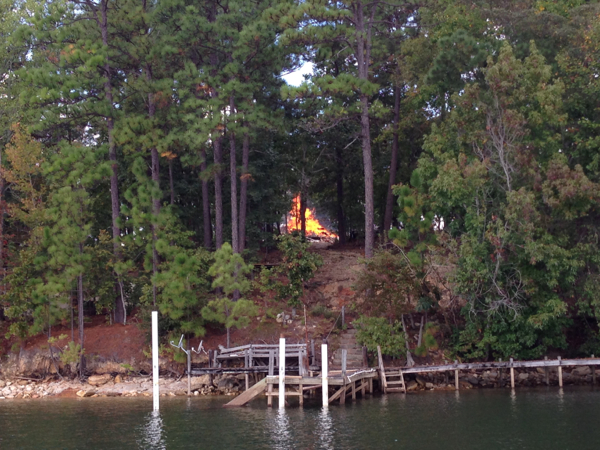 The Ridge is a huge , gated development that is centrally located on Lake Martin.  I just helped a family close a house last week in Phase III of The Ridge.  I love that area – some of the lots and homes in Phase III have views of Kowaliga Bay, and others have views toward the Chimney Rock area. It's close to The Ridge Marina, and all home owners have access to The Ridge amenities like the clubhouse, tennis courts, pool, beach club, etc.
If you'd like more info on The Ridge, check out my Neighborhood Page.  Here you'll find a history of the development, map, video tour, PLUS a live feed from the MLS of all homes and lots currently for sale.  I design my Neighborhood Pages to be one-stop-shops for the different developments and geographic areas around Lake Martin.  There are over 700 miles of shoreline at Lake Martin, and I want to make it as quick and easy as possible for you to learn our market.
I wrote about this part of Phase III in my LAKE Magazine column, "Peek into the Big Boys' Mind" (Dec 2012).  To read the entire article, click here.  If you're interested in waterfront real estate on Lake Martin, give me a call and let's talk about why I think the progress on Phase III of The Ridge is good for our entire market.  I sell Lake Martin property exclusively, everyday, and I'd love to be your realtor.  Call me at (334) 221-5862, email me at [email protected], or click here to contact me.  Thanks!