If you're spending Thanksgiving at Lake Martin, you should truly be thankful. I can't imagine a better place to enjoy a long weekend in the fall.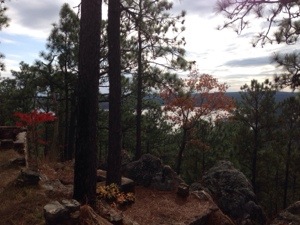 I would recommend, if you plan on going out to eat or shopping, that you call ahead to get everyone's holiday schedules. I can think of a couple of spots like Catherine's and Springhouse that have abbreviated hours. I am not sure about Oskar's and Niffer's and the other spots. Just call ahead.
Shopping – I've been seeing a lot of promotions lately for the shops in downtown Alex City. If I were you I would definitely check out the wine and tapas at Henry Foy's Emporium Wine and Cafe 128. Also I've seen promotions from Cloud Nine, Carlisle's, and Little Black Dress. I don't mean to leave anyone out here, so google them and give them a call to hear what they have going on this weekend.
I can tell you that one under the radar activity would be a donut run to Alex City. Daylite Donuts has opened up. They are about 150 yards down the road from the KFC. Awesomeness galore. My dad would berate me if I didn't mention his favorite order – an Apple fritter. He gets them to put it in the microwave for 12 seconds.
To work off the calories, know that the hiking is stellar this time of year. Russell Forest at Russell Crossroads is nice if you prefer dirt roads with a side of Catherine's coffee. Wind Creek State park is huge – the state's largest. They have tons of trails or you can wander along the shore for miles. Cherokee Alpine Trails' two locations on Overlook Road or Smith Mountain will be the most rugged experience but oh so worth it.
Whatever you do and wherever your Thanksgiving takes you, we wish you well.