What does it take to sell a waterfront Lake Martin home in ten days?  That's what happened with this Little Kowaliga property.  Since this home was a Lake Martin Voice Realty listing, I wanted to share this success story with you.  I also brought the buyers to the home, so I'm familiar with both parties.  While it is certainly not the norm to have a contract within ten days on Lake Martin, it's a worthy goal.  So let's unpack how this sale worked and see what lessons it offers.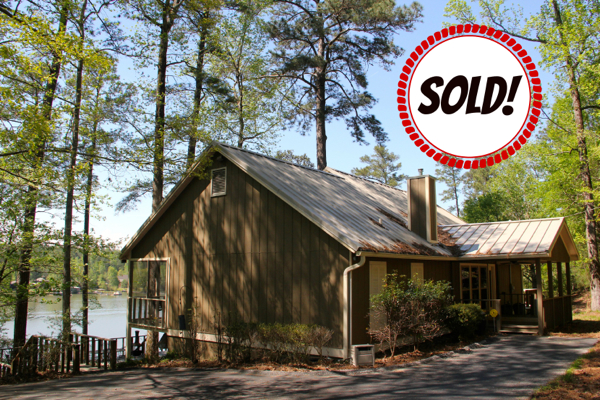 1.) The sellers had their lake home in great selling condition.
It looked good.  It was uncluttered, it was depersonalized, it was clean – all the tips you see on HGTV.  This is huge, and it does not always happen.  You'd be surprised. Let's face it, people buy waterfront homes on Lake Martin to have fun – and a lot of times having fun gets in the way of keeping a tidy home.
2.) I had buyers who were ready to buy a Lake Martin home.
A large part of a realtor's commission should be access to that agent's "inventory" of current buyers who want to buy a Lake Martin home RIGHT NOW.  Not maybe, not hypothetically, but right now.  I had a buyer who was ready. This couple was familiar with Lake Martin already, and had been looking both online and in person. They were well researched on the Lake Martin market, and knew what they wanted.
Realistically, realtors do not always have that perfect buyer already queued in the wings, but another resource a realtor should bring to the table is his or her ability to go out and find other buyers.  That takes a strong marketing presence. That's why I blog about Lake Martin – ninety percent of buyers look on web, and for the vast majority that is the first move they make, so I think our internet presence should be a big priority.
A strong web presence (website, youtube channel, pictures) is an absolute must. But you can have the prettiest pictures in the world and it doesn't mean squat if it doesn't get found. Your agent MUST have a site that can stand out of the noise of the web and get found by Google. That's why I blog about Lake Martin in general, and real estate specifically. The search engines recognize this site as a strong resource, and visitors to my site (thank you very much) are the proof in the pudding. We have been blessed with about a million hits from literally hundreds of thousands of unique visitors since I have been blogging (2007).
3.) Maybe most importantly, the sellers had an honest assessment of pricing.
What is a home worth?  Really?  In spite of all of the real estate info available to buyers and sellers online these days, buying or selling a home is still a pretty personal transaction.  Objectivity can be difficult.  The sellers of this Little Kowaliga home had tested the market for 252 days at a higher price with another listing company.  They were willing to try again at a price more closely aligned with what our market was telling them.  The result was a sale.  In ten days.
4.) The media.
And specifically, a huge amount of pictures.  Most buyers are coming from out of town and can't swing by the home during lunch to check it out.  For obvious reasons, I want Lake Martin to be known for its awesome real estate marketing. I want people to be blown away by the care we take to sell Lake Martin.  I want the info on all of our MLS properties to be readily available, completely thorough, and of the highest quality.  So we select the best forms of marketing and then get out of the way (No sassy glamor shots of me with my arms folded. No talk about my "team." People want a lake home, not an agent).  In this case, we chose seventy two quality pictures of the Little Kowaliga home and put them on the MLS.  And on our website.  And on Flickr.
I am still surprised, however, that in this age of no cost digital pics, I still see agents in the MLS that mail in their media efforts.  I see homes with five pictures of a property, two of them are out of focus, and one contains their thumb.  I don't get it. Let me say a word to people who are thinking about selling their Lake Martin property – check out the past listings of the agents you are considering. First of all – can you even find their listings? If you can't, how do you expect a buyer to find them? And if you do find them, do you see vague directions? Lackluster verbal descriptions? Poorly lit and out of focus pictures? And I will say it – A TOTAL LACK OF VIDEO?
Why do you think this agent will do anything different for your property?
It shouldn't matter what kind of property you are selling, I believe it is up to us agents to put in 100% effort to sell your waterfront properties.  I'll never be confused with Ansel Adams or Steven Spielberg, but I can say that I will do my best to give not 5, but 45 clear pics of any property I have the honor of listing.
5.) Video video video.
We put out a great full motion video tour of the home.  Not a slideshow of the same MLS pics set to muzak.  We're currently working on incorporating aerial shots of the properties into the video home tours, and that looks really cool. The video below is the one we made for the Little Kowaliga home; we try to squeeze  every possible bit of info about the property into these videos in under 3 minutes.  We want buyers to know exactly what the seller is offering, with no surprises once they arrive at the home in person.
We also did a quick aerial video of the outside of the Little Kowaliga home. It's amazing how much additional info you can gain from this vantage:
10 days on the market was all it took in this case.  Like I said, this is not the norm for Days On Market, but the transaction is more likely to move quickly if all of these factors are considered.  And of all of these, an honest assessment of pricing is probably going to be the biggest factor.  I love Blizzards from Dairy Queen a whole lot, but I will not buy one for $10, even if it is the best looking Blizzard I have ever seen, and it is 105 degrees outside.  Its value has been set in the open market and I know I can get a comparable Blizzard for less on down the road.
So – Lake Martin homeowners, are you considering listing your home with a Lake Martin realtor?  If you are, and you like what you've seen here, I'd love the opportunity to talk with you about your property.  And if you are a buyer, I'd love to help you thoroughly scour the lake inventory and gather as much info as possible on homes that may meet your needs.  If you're interested in a listing that is not mine, and you feel like you need more info, I make private video tours of other agent's listings and provide you with a private YouTube link.  Call me.  John Coley  334  221 5862 or john (at) lakemartinvoice (dot)com.