Lake Martin, Alabama has awesome striped bass fishing in the fall.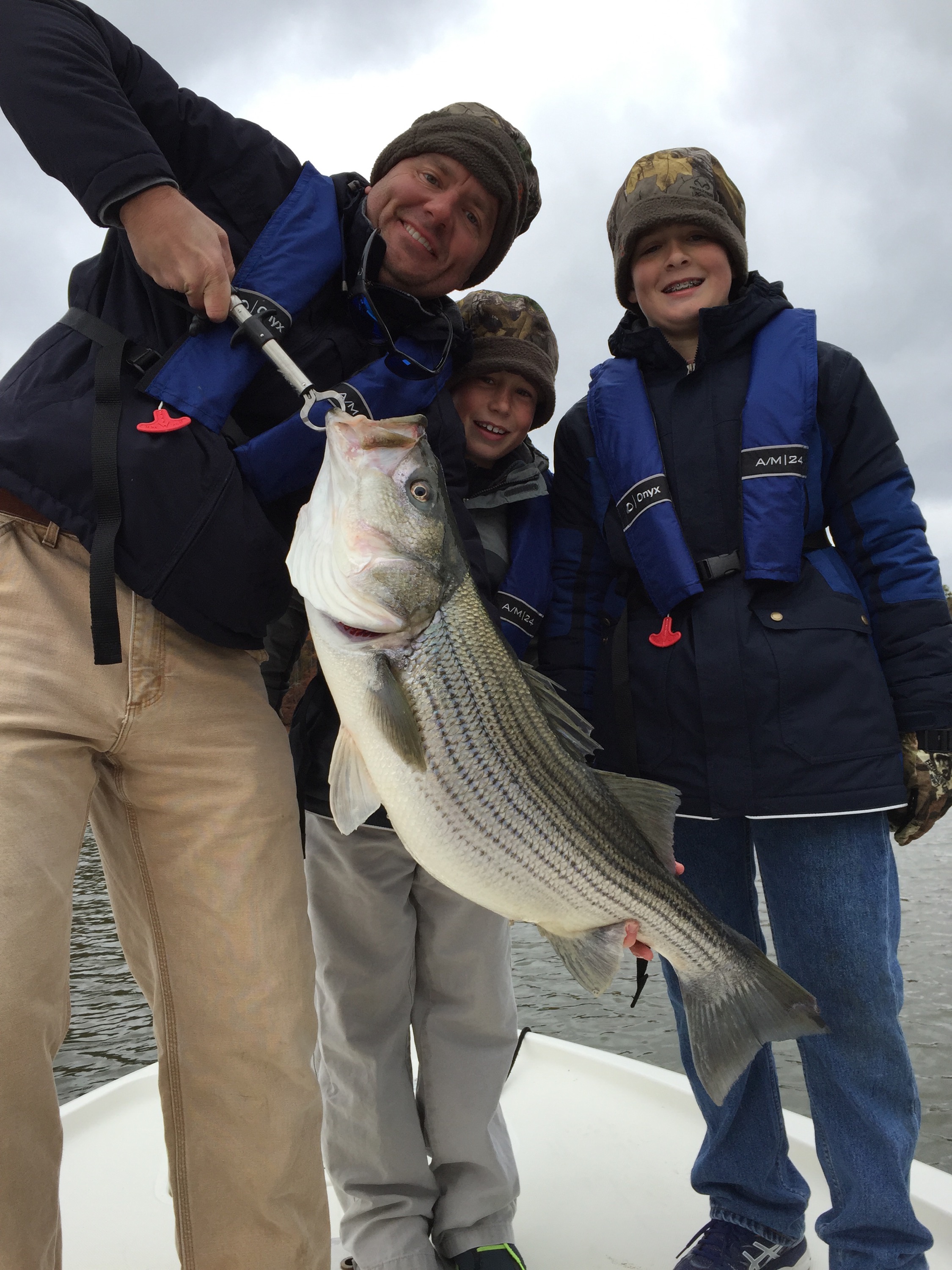 Here at Lake Martin we are proud to be one of the best freshwater fisheries for the Striped Bass in the USA. Fall is one of the best times to fish for them since the water temperatures cool down and the big boys come up from the depths. Above is a picture of a nice striper that one of my sons caught this time last year. We had a cold snap in the middle of last October and it was chilly, but the fishing was awesome!!
I continue to try and crack the code on how to reliably catch striped bass on Lake Martin with my fly rod. If anyone out there has any tips- please contact me here or call at the number at the top of the page and let me know!!
I recently found this article that gives some really good tips for fly fishing for saltwater stripes on inland lakes. Here's another one (featuring none other than Dave Whitlock) that gives a plug for Lake Martin: Fly Fisherman Magazine. I also have discovered a ton of great fly tiers online – like Brandon Bailes of Panther Branch Bugs.
One great tip I have seen online is to hook up with and learn from the local guides, no matter their fishing method. The above saltwater striped bass was caught when I was being guided by David Hare of Alex City Guide Service. David fishes with bait most of the time, but he has an unparalleled knowledge of the stripers on Lake Martin. Therefore, I pay close attention to what he says! Here are his two most recent Lake Martin Striped Bass fishing reports. They tell you what to expect when fishing in November, and then October (because I was too slow to post it last month). If you have any questions, please contact David directly at:
Alex City Guide Service
Captain David Hare
256-401-3089
[email protected]
Lake Martin Striped Bass November Report, By David Hare
Date Written: October 13, 2015
Water Levels 487.15 (490.00 full pool)
Clarity / Clear to very clear
Surface Temp: 70* – 74*
November starts my favorite time for big, big stripers! In fact for the next 8 months the day trips will be awesome!!!!! With water temps cooling down I will be focusing on the biggest of the big stripers by spending most of my time in shallower areas of Lake Martin, then the creek channels, and for sure not overlooking the river channel. Each day I will prepare my bait well with different size baits but making sure I load some of my largest shad I have.
Every year around this time I read articles that some say the bite slows down in the winter because of the fish's metabolism! Well maybe for some but for the fish that I target (trophy stripers) my action and bites actually seem to get much better. It seems to never fail that we keep our taxidermist plenty of work through out the winter.
If you have trouble with boating stripers just try your luck with much bigger baits including much bigger artificial baits. Again, don't rely on all big bait but as I fish 6 rods or baits at a time I will always have at least 4 of the 6 loaded with bigger size baits.
Until next time get off that couch and get on the water for a big fish!
As always call me for your trip of a lifetime.
Lake Martin Striped Bass October Report, By David Hare
Date Written: September 11, 2015
Water Level: 488.3 (full pool 490.00)
Very Clear on lower end to clear on upper end
Surface Temp 82*-85.5*
Sitting here on my deck next to the water, there's a nice breeze coming across the water and feeling early fall in the air. Dressed with a long sleeve shirt on which actually feels good and makes me want to start my fall fishing pattern but I know I actually have several more days before the water temps get me or I should say get the fish in the fall pattern. By the time you're reading this hopefully water temps have fallen and the stripers have once again started that transition to a new feeding pattern on Lake Martin. Every October, I burn more gas than any other month of the year just staying on these fast moving creatures. Each day can be a different location for catching so I always tell my clients patience as always is the key to landing these monsters and October can definitely test even the most patient fisherman. However, don't worry! We still come to the docks most days with great catches just a little more gas burned, a little more patience used up and several more baits used up.
Do not overlook any area of the lake this month when fishing, this is one month you are liable to catch a striper anywhere and anytime of the day and yes night too! That's right, not all stripers are going to switch to the day bite at the same time so if you're a night owl get out there and boat yourself a night time monster!
All of our bass guides are excited because they say fall bass fishing is awesome here on Lake Martin and produces some very large bags of spotted bass. They will be spending a lot of time in the mouths of creeks in search of the amazing fish. Break out your spinner baits and go see what you can put in your boat. Be prepared for that monster strike from a striper while doing this because, yes, Lake Martin striped bass will blow up on a spinner bait. Just 3 years ago I was talking to a bass fisherman that had boated a 42 pound striper on a spinner bait that morning near the Wind Creek boat ramp area.
For you laid back fisherman that don't care what bites as long as something is pulling on the line I would suggest trolling some crank baits that run several different depths. By doing this trolling method you are liable to catch big stripe, white bass, crappie and yes, spotted bass! If I didn't have a umbrella rig I would go purchase a couple to put out while I was trolling. Better yet, put one big rig and one Alabama rig out (much smaller) at the same time to increase your chances, I think you will be pleased at the results. In October, the best trolling speeds is 2.5 mph to 3.5 mph.
As always folks, wear a PFD (life jacket), show respect for fellow fishermen, and be a defensive driver. Constantly watch out for other boaters and for sure this time of year the shallow spots that you do not have in the summer.