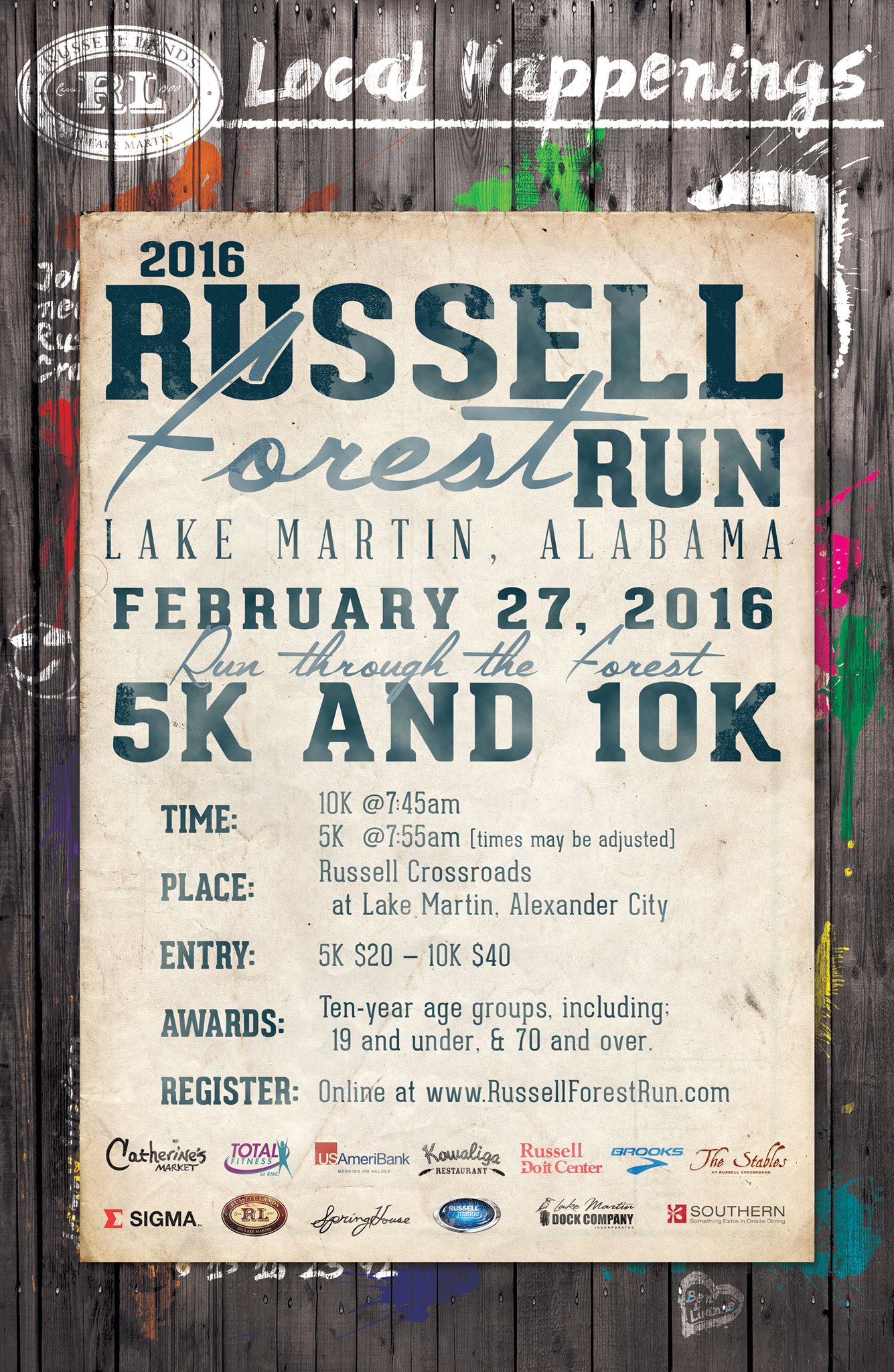 The 7th Annual Russell Forest Run is Saturday, February 27th, 2016. Register Here
The Russell Forest Run is held in Russell Forest, and is a great event for local charities. Runners will be treated to beautiful scenery around Lake Martin as they jog (or walk) along dirt roads, through the forest around the Kowaliga area of Lake Martin. Catherine's Market is right at the starting line in case you'd just like to watch the fun.
It is a really laid back event. The whole community comes out to watch the festivities. I am not sure if I will be able to run this year, I have some appointments that morning, but I am going to try, because it is such a cool event.
You could make a pretty strong argument that the post race meal is worth the price alone, and that everything else is free.
For those of you who are not familiar with the setup, here's the description from the official website:
"The Run is an out and back race that carries runners on a certified course(USATF AL10003JD) over sand, clay, and gravel roads that were designed for runners, bicycles and electric cars. The scenic route starts at Russell Crossroads, takes runners near Kob's Knob, up to Heaven, and back to the finish line at Russell Crossroads. The 10K will start promptly at 7:45 with a cannon shot from the Town Green at Russell Crossroads. The 5K route follows the first 2 miles and finish of the 10K route and is an out and back run. The 5K also starts with the cannon blast at 7:55.
Following the Russell Forest Run there will be a post-race party at The Stables complete with our Famous Grits Bar, ice cold beer, the awards ceremony, music, giveaways and more.
Event details and schedule
10K-Individual Age/Group open   $40
5K – Individual Age/Group open   $20
Online registration will continue until midnight February 25th. The Russell Forest Run 10K is an out and back "chip timed" run. There is plenty of parking on site and a shuttle is available for those who may need it. Please allow yourself plenty of time to get to the site. The 10K will begin PROMPTLY at 7:45 and the 5K approximately TEN minutes later!
Packet Pickup will be Friday February 26th from 4-6pm and Saturday from 6-7am at the Discovery Center at Russell Crossroads!
Click Here for more information and to register."
Would you like to know the easiest way to keep up with events around Lake Martin? Download our free Lake Martin Voice App and stay current!