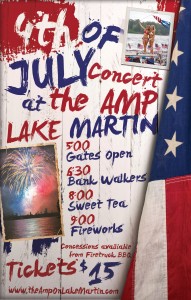 The best place to watch fireworks at Lake Martin for Independence Day? Easy: The Amp – aka The Lake Martin Amphitheater! Lake Martin fans have been watching Fourth of July Fireworks in Kowaliga Bay for generations.
The Lake Martin Amphitheater is located on Highway 63, just south of Kowaliga Bridge. See this Google Map. Don't be tempted to turn on Tecumseh Pt. and Russell Point Roads to get there. The official entrance to The Amp is a dirt road out on Highway 63, across from Prospect Cutoff Road, aka Elmore County Road 389.
Schedule for the Fourth of July Fireworks at the Lake Martin Amp:
5:00 – Gates open
6:30 – Opening is a favorite band of the locals The Bank Walkers.  I have confirmed that guitar prodigy Brian Bice will be wielding his six string, so be sure not to show up late.
8:00 – The Sweet Tea Trio plays until the fireworks begin
9:00 – Fireworks Begin!
For tickets click here to order online – $15 (children 6 and under free).
Happy 4th y'all! I'd like to personally thank Russell Lands for all they do to put on this show every year. The company is the major backer behind the Amp, and coordinates all of the concerts there, as well as the fireworks. It's a huge effort and the Lake Martin community wouldn't be the same without it.
Please see this video for an aerial tour of The Amp.  Also if you're coming to The Amp, bring towels to sit on or low beach chairs.  It's also BYOB but please be sure to have a sober driver.
People always ask me if they should take their boat and watch the Fourth of July fireworks from Kowaliga Bay.  It's a beautiful way to watch the fireworks, arguably the most beautiful, but I discourage it.  If you are new to Lake Martin, or new to boats, or new to boating on Lake Martin at night, forget about it.  If you insist, please make sure to have a sober driver and at least one sober spotter/first mate.  The sketchiest part of the whole affair is after the show is over.  Everybody takes off at once and goes in different directions, and the waves can get problematic.  Be advised.
For other events around Lake Martin for the 4th download my free app –  https://lakemartinvoice.com/app.