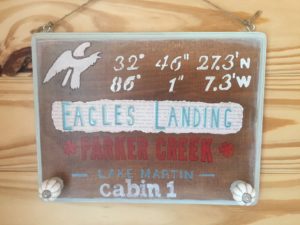 Did you know that the tiny house, big living lifestyle had arrived at Lake Martin? Well it has – at least in the form of rental cabins at Parker Creek!
Herb Winches, founder and developer of Eagles Landing at Lake Martin (and restaurant – The Landing at Parker Creek) saw the need to have a place to "stay in style and play outdoors."
Each of the 3 cabins are fully furnished with all the modern conveniences of home. They each feature a 13 ft. vaulted ceiling and a screened in porch that faces the lake. The master bedroom includes a queen size bed (no climbing to a loft bedroom here).  Stacked bunk beds are in the hallway.
A free boat slip is provided during your stay. And you can enjoy a great beach and large swimming area too! The cabins are 550 sq. ft. and are great for relaxing and enjoying all that Lake Martin has to offer with family or friends.
For more information click here for the Eagles Landing at Lake Martin website or call 205-598-8922.
See for yourself – I think you will agree tiny homes = big fun!