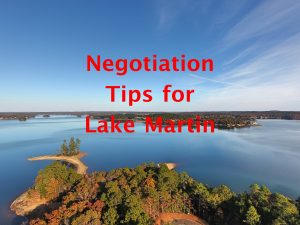 As a full time real estate agent here at Lake Martin, I get a lot of questions about tips on successfully negotiating a purchase of a waterfront home here. I thought that this month I would jot down a few that I have learned after fourteen summers helping buyers here. I have learned these from trial and error, and also from many of the excellent agents that we have here in the lake area.
The below are all from the buyer's perspective. There are plenty of tips for sellers, too, but this is a pretty broad topic. Also, these tips should be viewed as generalities. In your specific situation, always follow the advice of your lawyer or your own agent:
1. Do your own homework – waterfront homes at Lake Martin are just like any other real estate in that the comparable sales method is the most universally accepted way to arrive at a value. The comparable sales method is simple to describe yet sometimes hard to execute – you look at different sales that are similar, and adjust for the differences. But sometimes the differences are tough to quantify at Lake Martin. Like, how do you compared one view to another? And privacy – one person's "congested" is another person's "just right." A good real estate agent should help you apply these differences as they apply to the local market. The first place you have to look to get started is the Lake Martin Area Association or Realtors' Multiple Listing Service, aka the MLS. The MLS is the best way to access the most accurate, up to date information on Lake Martin's market. Your agent can help you do this, but it pays to take your own time to do your own homework on the MLS, by familiarizing yourself with what is on the market.
2. Try to understand the seller's priorities – once you understand the market side of the equation, next it is important to try and understand the seller's priorities or motivations. This is important at Lake Martin because approximately 80% of the waterfront homes here are second homes. Many of these homes have been owned by the same family for generations, so they might have little or no basis in the homes. This means that there might not be very much urgency to sell – it's not like the family is having to move for work purposes or anything. This is why it is important to try and understand the seller's priorities. If there is a listing agent involved, he or she might not be able to shed any light here, due to fiduciary confidences. But if the agent can provide any helpful insight, it is worth it to listen. For instance, the seller's agent might be able to say something like, "the seller would rather get a higher price but give you the furniture as part of the deal," or, "the seller has a family reunion scheduled at the lake house in two weeks, can we agree to a closing date after that?" Knowledge of tidbits like that might be the difference in deal or no deal.
3. Don't beat them up with an inspection – OK, let's say you've found your Lake Martin home, negotiated with the seller, and have a written sales contract in place. Now is the time that you have a home inspection. My tip here is not to try and use the home inspection as a second negotiation. Meaning- some buyers tend to want find every little thing wrong with a home and get the seller to reduce the sales price for it. I think that most of the time – and I stress most of the time – this is not a good strategy here at the lake. Why? Because most of the value of a property is in the land anyway. When you negotiate the price, you might as well take the cost of any repairs that you can see into account. A home inspection, in my opinion, is not an opportunity to beat the seller up for every nickel and dime. It's an opportunity for a professional to tell you what you can't see that will cost you a lot of money, such as a bad foundation, or HVAC system, or roof, or septic system. Obviously, if in this process you find a big problem that needs addressing, go for it.
4. It's not a science – also remember that valuing waterfront property is not a science. No person can say with certainty, to the penny, of a home's worth. Granted, a real estate professional should be able to get within a few percentage points. But beyond that margin of error, there is no "right" or "wrong" so let's not pretend that, say, $400,000  for home X is correct and anything other than that is incorrect. Look, I know how it goes. Sometimes negotiations get intense, but at the end of the day we should all be able to step back and say, "hey, we gave it our best shot," and move on if it doesn't work out. In that case, it just wasn't meant to be.
Note: I originally published this article in my monthly column in Lake Magazine. I am proud to write about Lake Martin Real Estate for Lake Magazine and ACRE – the Alabama Center for Real Estate.