Here's an update on how Lake Martin, Alabama, is being affected by the coronavirus.
Please note that I am publishing this post at 9AM, central time on April 1, 2020. Things change but this is what is going on here at Lake Martin right now.
Another disclosure- I am a real estate agent here at Lake Martin. That's it. I am no sort of public official or anything. I sell waterfront property. I open doors. I make home tour videos. I walk lots. I estimate water depths. I ask questions. I talk on the phone. Just a real estate agent.
Lake Martin Coronavirus Update FAQ:
Is Lake Martin, Alabama, open right now?   Yes, as I write this, it is. There are plenty of boats and people riding around on them. In fact, I would say that when I was riding over Kowaliga Bridge on Saturday, March 28, it was as full of boats as a busy summer Saturday.
Will "they" close Lake Martin, Alabama, if the virus gets worse? Who knows what "they" will do in the future, but I find that would be difficult. First of all, Lake Martin is about 41,000 acres in size and runs over 880 miles of shoreline and three counties (Tallapoosa, Elmore, and Coosa) here. There are at least 25 public boat ramps here that are on land owned by Alabama Power, a utility company. I suppose Alabama Power could declare them "closed" but there are no gates on any of them. There are also five or six pretty massive marinas where people store their boats. I think it fairly likely that the retail stores of the marinas might close but getting a boat out of storage is a pretty socially distant activity. Furthermore, there are like 20 neighborhoods around the lake that have their own boat ramps. They are privately owned. Can they be forced to close? I doubt it. Lastly, there are about 7,000 waterfront homes on Lake Martin. Can "they" stop people from getting in their boats, from their own docks, and riding around the water? I highly, highly doubt it.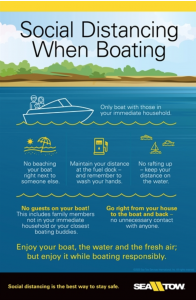 Are people on the water being corona sensitive? It's a mixed bag, I suspect, like everywhere else. I see some people in their boats that are clearly of the same family and therefore respecting social distance.  I have seen some idiot college kids that are packed in 14 to a boat. I have seen boats that keep respectful distances from others, and some that barrel in to beach up next to strangers. Please see this article Dos and Don't for Boating Safety and Social Distancing for COVID-19 – for good ideas.  I suspect that the people that ignore these socially distant rules are the same ones that ignore other boating laws. Like the "dad" that was driving a boat load of 12 kids in his Sea Ray on Sunday and plowed right by me in a no wake zone. I said (because he came so close to me I didn't have to raise my voice), "hey man, no wake." He said, "that's why I am not making a wake," as his two foot high waves hit me.
Are the Lake Martin restaurants open? Yes and no. Kowaliga is the only on-water restaurant I know of that is open and they are curbside serving like everywhere else in the country. The other waterfront restaurants (Chuck's, The Landing at Parker Creek, et al) had not seasonally opened anyway and dang sure did not want to open in the middle of this. Off water is a much different story. The off water restaurants around Lake Martin are very much open and operating and I encourage you to support them. Oskar's, Niffer's, Lake Martin Pizza, Catherine's, SpringHouse, Jim Bob's, among many, many others, are open and doing curbside pickup. If you would like a handy way to discover these eateries please download my free app – just search "Lake Martin Voice" in your app store.
Has the Coronavirus affected Lake Martin real estate? In normal (nonvirus) times, it is really hard for realtors to admit that they are not "hair on fire" busy. Think about it- have you ever asked an agent in any market, "how's business?" when they have NOT said, "OMG I am sooooo busy I just can't believe it." I guess we agents think that busyness equates to productivity. So, with that being said, I do think showings are down. I showed three homes and a lot last week to two different buyers. I have three closings in the works but those are deals that inked 5 to 8 weeks ago. I did write up an offer today and went on a listing appointment today. However, I have had a couple of buyers tell me that they were going to wait to make a move. Looking at my web statistics, I can tell that HUGE numbers of people are searching my site, viewing my listings, interacting with my media that I have online on Lake Martin real estate. If I had to predict, I would say that the last three weeks and the next four will see a low amount of offers. Since most deals close in five to six weeks, my guess is that March, April, and half of June sales will be way down from last year but July and the rest of the year will make up for it. Because another thing I have observed- people really like to quarantine at Lake Martin.
Any other possible coronavirus effects on Lake Martin? I have been one of many here at Lake Martin that has extolled our area as a great place for year round living. I have wondered aloud at why people would vacation at the beach in November or February but not Lake Martin. Maybe now it will catch on because so many are here enjoying the beautiful weather and scenery. I guess I could say that I wanted more people to appreciate our area, but not like this.
What's it like to be socially distant at Lake Martin? Frankly, it's awesome. My family has done more hiking, hunting, fishing, and hanging out with each other in the last three weeks than I ever thought possible.