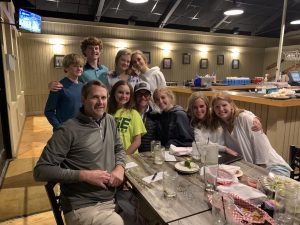 Technology has really affected the real estate industry in the last seven years, especially in a second home market like Lake Martin. I've been really fortunate that my online marketing via this blog, my videos, and social media have allowed me to help a lot of sellers and buyers.
As great as the tech is I LOVE getting referrals from friends and buyers. Few things are as powerful as advice from someone that you trust. Seven years ago, I helped a family find their Lake Martin lake house in the Little Kowaliga area, over by Real Island Marina.
Fast forward to 2020 – the summer of a Covid – they referred some friends to me. The friends were looking for new construction in the Kowaliga Bay area. We were able to get a home on a beautiful lot under contract. But it had to be built! After almost a year on construction, I am happy to say that they closed on their Lake Martin lake house in Talisi Cove!
On their first weekend at the lake, they had a mini reunion with the friends that referred me in the first place!! They sent me this fun pic of their dinner together.
Thanks again to all the friends and I hope you have many years of fun at Lake Martin!!