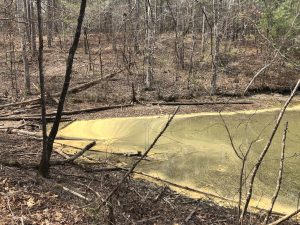 Yes folks, it is that time of year again – pollen season at Lake Martin. Happy Spring! Aaachoo!
We all love this time of year with the water level rising, the birds chirping, the sun shining and the temperature a comfortable 68 degrees.
But at Lake Martin we also know that early spring makes for the least beautiful water. With spring rains making the lake water muddy and the pollen making the water yellow – it is not a pretty picture.
I don't know where you are sitting right now but when I look out in our yard, on our dock and on our car – everything is coated with a highlighter shade of yellow. As far as the Lake Martin area take a look at a website that tracks the pollen level – pollen.com.
If you are getting spring fever, aaachoo, for buying a lake house and looking forward to lake life this summer, give me a call! 334.221.5862