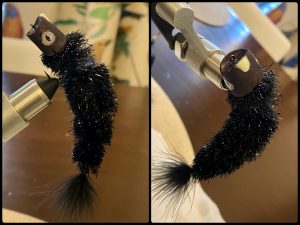 A year ago I was fly fishing on Lake Martin right at dusk. I was in the Blue Creek area in a 12 foot aluminum jon-boat rigged with an old 9.9 horsepower outboard motor. No electric start. Tiller steer. Old school, baby.
A small school of striped bass started eating minnows on the water's surface, close enough to me that my lack of trolling motor was no hindrance. I silently paddled over to them to try my luck.  I wanted to imitate the prey they were chasing and the only streamer fly I had was a small white Puglisi shad pattern.  I tied it on and flailed the water fruitlessly. As it turned totally dark, I wished I'd had a fly for striped bass that would stay on top and make a little noise to boot.
Thus, my idea for the "Knight Rider" was born. Well, really, "born" is a strong word. I invented nothing new with this fly. For the vast majority of readers that don't know about fly fishing and fly tying, an analogy is that I just took a paint-by-numbers drawing and colored it in with my own colors. This fly mimics a minnow that is dying and struggling on the surface of the water, easy pickings for a hungry striped bass.
For you readers that are fly-fishers, the jargon explanation – it is essentially just a blacked out howitzer fly on Blane Chocklett's (relatively radical) Game Changer platform. I'm sure someone's done it with this color scheme before but I just couldn't find a video documenting it in time to help me tie it. This video was the best one I found but I only tied chenille on the shanks and used black marabou for the tail.
If it's a night fly being fished on a big freshwater lake like Lake Martin, I think it needs to be all black. It also needs to push some water and make noise so that large foam Howitzer head should work. I struggle casting the 9 weight line needed to throw it so I would like the material to shed water quickly for ease of casting. And if I'm the one that has to fish it, I'd like a little help seeing it on the water. Thus the dab of glow in the dark paint on the head.
It's the first time I've tied a fly with a big howitzer head, and had to color it. I found that a good ole black sharpie did better than the fancy art store markers. It was also the first time I've used a dab of glow in the dark paint. For the body, I went with the water-shedding
black Game Changer chenille
 on the Game Changer spines. Hat tip to 
Rob
 at 
Deep South Outfitters
 in Smoke City, Alabama, who told me it's easier to trim and shape the Game Changer chenille with a cheap 
beard / hair trimmer
 instead of scissors (it is for me).
I have a lot to learn about fly tying, especially tying Game Changers and getting them to look consistent. But, overall I think it came out OK enough for me to test at least.
Anyway, I tied a half dozen. I gave three to my dad for Christmas. I haven't fished it yet but I'm looking forward to it. I'll post an update on how it fishes. Possible changes I already want to make are 1) trimming it a lot tighter, 2) same hook size but taking out a section of changer, and 3) downsizing the hook size and tying a mini version.
There still isn't a lot of info out there about catching striped bass, on the fly, in the south, on freshwater lakes. I can only think of a handful of guides that really do it well. If you want to research, start with Lake Lanier's Henry Cowen and his excellent book.  The book is a must-buy. I have fished with Henry and he's a great guy and teacher and is easily the most recognized expert in the country. One day I would also like to fish with Daniel Roberts in Arkansas and John Shank in Texas. Their fisheries aren't exactly like Lake Martin but I am sure to learn a lot by the way that they fly fish for striped bass. If there's anyone else out there that is dialing in "sodium free" striped bass on the fly, please let me know! I would love to follow them as well.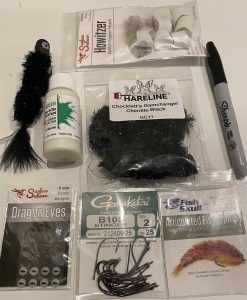 I took a picture above to try and show my tying materials, but just in case, here are some links below to some of the ingredients that are harder to find: