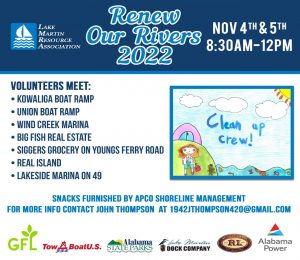 Attention Lake Martin fans!  Here's a chance to volunteer! Please come November 4 and 5, 2022 to help keep Lake Martin clean!
Every year, the Lake Martin Resource Association (LMRA) participates in the Renew Our Rivers cleanup.  It's part of a larger effort to keep our natural areas beautiful by removing litter. We collect trash on the shoreline of Lake Martin, but most comes from the roadways that surround it.
Local businesses and people chip in to help. This year, there are seven locations that will have trash dumpsters available for volunteers to bring by trash.
Here's a list of them, with links to their spots on Google Maps:
You don't have to check in and you don't need any special permission to pick up trash anywhere. If you see it and want to pick it up, go for it!
But, I will say it is a little easier to go check in to a location near you because you're able to sign in, get some free swag (like T-shirts and garbage bags) and get organized. While you're there, please sign LMRA's volunteer sheet so we may keep you updated on future events.
I am honored to serve on LMRA's board and this event is one of the main reasons. LMRA really does a great job of organizing events like this that can really help the Lake Martin area.
I would also like to thank the local businesses that sponsor the event, like GFL, TowBoatUS Lake Martin, Lake Martin Dock Company, Russell Lands, and Alabama Power. If you are curious about the Renew Our Rivers in general, click here for more info. It was started by Alabama Power and they now have cleanups like this in four states!
If you have any questions, feel free to email me at the address at the top of the page, or LMRA's John Thompson at [email protected]  –