Aquapalooza 2010 on Lake Martin was not Sea Ray's "Signature Event" this year, but all reports indicate that it was very well attended.
Here's a quick video I shot of the early hours of the concert: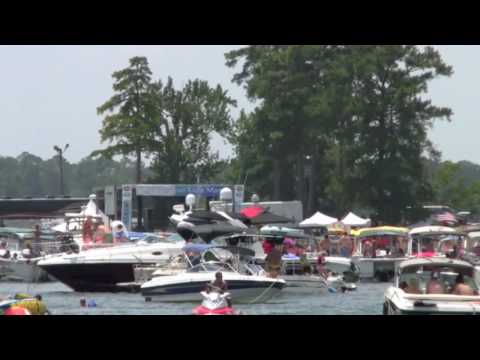 Depending on whose estimates you read, anywhere from 15-20,000 people showed up (as compared to 25,000 last year).  That's a lot of folks.
It was a lot of fun.  My family (yes – I brought kids) anchored up with some really nice people from Columbus, GA and spent most of the afternoon floating in our tubes. We made it up to the front and hung out at the stage, and saw lots of friends along the way.  We made the swim back to our boat just before John Anderson started playing.  For those of you who have not made it to Aquaplaooza yet, we've decided the raft/tube/float is key.
We want to thank Russell Marine and Sea Ray for what has turned out to be not just one of the best events on Lake Martin, but one of the best summer events in the southeast.
Once again, local photographer and newspaper baron,  Kenneth Boone, aka "Mr. Perfect,"  has what I think is the greatest collection of pictures from Aquapalooza.  If you'd like to see if he caught you in the action, check out his gallery here.
Shirley Johnson said at August 9th, 2010 at 6:38 pm

I was very dissappointed by this years event. You had to pay an entry fee of $10.00 to go in and get your t-shirts at the marina even if you weren't staying there for the event.(For those who pre-registered for the event.) We didn't pay a sponsorship fee to be on the three rows up front. We thought we could enjoy the show behind those boats. Boy, were we wrong. The sound system was terrible and no one could hear unless you were right by the stage. It was a big dissappointment and I don't think we will waste our time next year!!!

John Coley said at August 12th, 2010 at 6:31 pm

Thanks for the comment Shirley. A couple of tips:

1. I picked up my t shirts on Friday. I was pretty excited because they were free, just from registering online.

2. I agree the audio on John Anderson was softer than the opening acts. But, I guess I figured, "hey, for a totally free concert, it's enough for me."

I agree it wasn't perfect but all things considered, I for one thank Sea Ray and Russell Marine for shelling out the bucks and effort to make this happen.
Leave a Reply