Would you love to live on Lake Martin and near a golf course?
Check out the waterfront home I have for sale at 452 Locklear Drive – it is only a five minute drive (pun intended) from Lakewinds Golf Course.
This contemporary Lake Martin home is great for a large family or lots of friends – four bedrooms, three bathrooms, two living rooms, two fireplaces, a screened porch, year round water, gentle slope lot, boat lift, boat ramp, covered dock with a cool slide, covered gazebo – the list goes on and on.
Watch the video below for a quick tour of 452 Locklear Drive.
Are you familiar with Lakewinds Golf Course? Lakewinds is a public, old style golf course owned by Alexander City. It is located five miles east of downtown Alex City – click here for the google map link.
Watch the video below for a quick aerial tour of Lakewinds Golf Course.
Golfers are welcomed 7 days a week – call 256-825-9860 for a tee time.
For more info on 452 Locklear Drive, contact Listing Agent John Coley at the number at the top of the page or by clicking here or email me – john at lakemartinvoice dot com.
Part two of my Lake Martin Remodel in Parker Creek covers its interior transformation.
In a previous blog post I showed you before and after pictures of the changes made to the exterior of the home, the boat house and dock for this property in the Parker Creek area. (For the earlier post CLICK HERE  for Lake Martin Remodel in Parker Creek).
Now look carefully at the before and after pictures of the interior – no more "wood" paneling, popcorn ceilings and wall to wall carpeting everywhere. I have wood paneling at my lake house and the best I could do was merely paint over it. I am not sure how the home owners did it, but they somehow floated some sheetrock mud over the grooves in the paneling, or something. Whatever they did, the results look incredible. I thought they had pulled out the paneling and installed sheetrock.
They also tackled the popcorn ceilings. Popcorn ceilings are not all that uncommon at Parker Creek because when that area of Lake Martin was developed over the 1960s, 70s and 80s, popcorn ceilings were popular. The problem is that they are messy to remove. These homeowners removed the popcorn, right down to slick sheetrock, then painted it. Look at the difference!
The interior makeover is awesome. It was made brighter with new lighting, fresh paint, and updated interior finishes. The kitchen and bathroom countertops were replaced and tile backsplashes were added. All of the interior doors were replaced including closet doors. But enough of my talking about it – see for yourself!
I am happy to help you look for your own fixer-upper or move-in ready home in Parker Creek or anywhere on Lake Martin. Give me a call at the number at the top of the page or contact me here.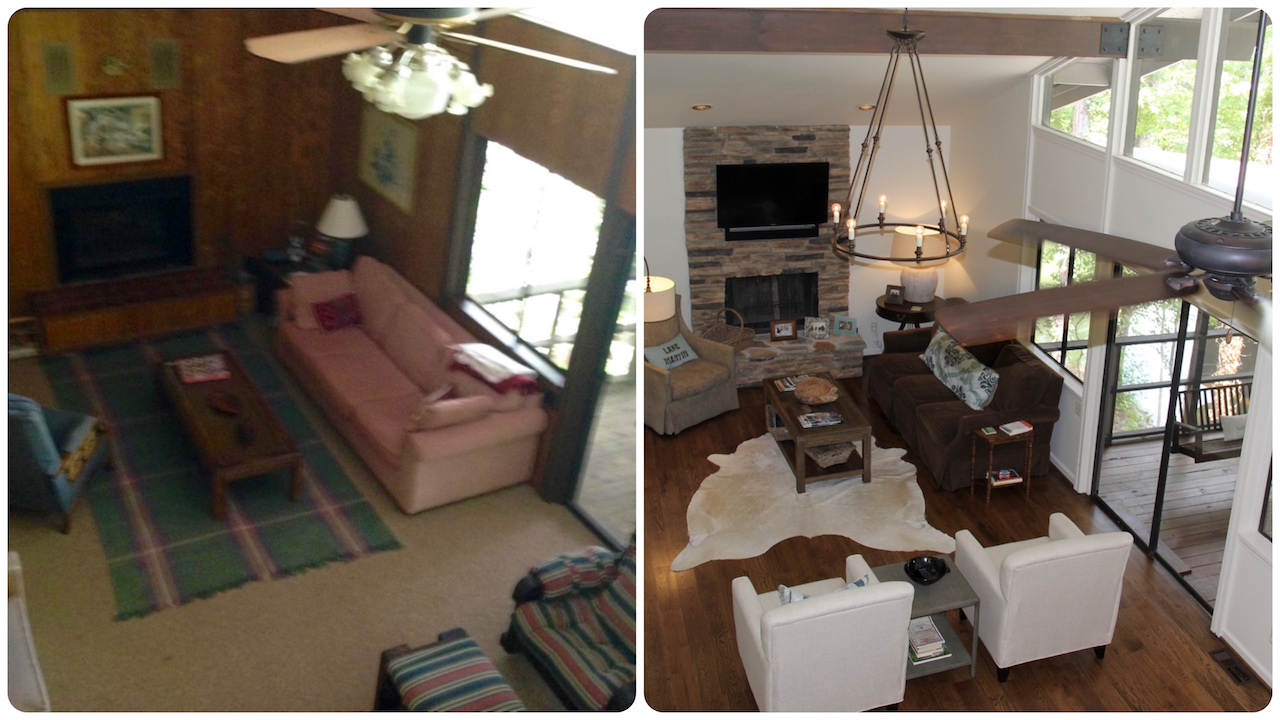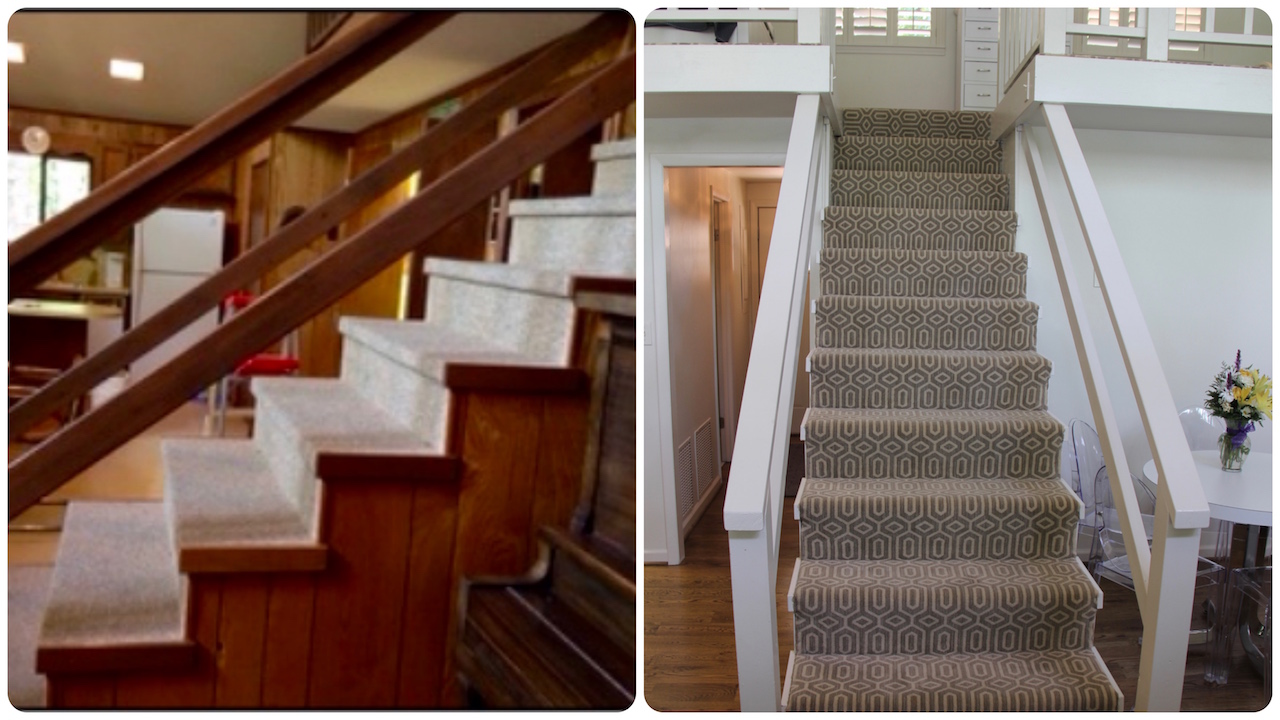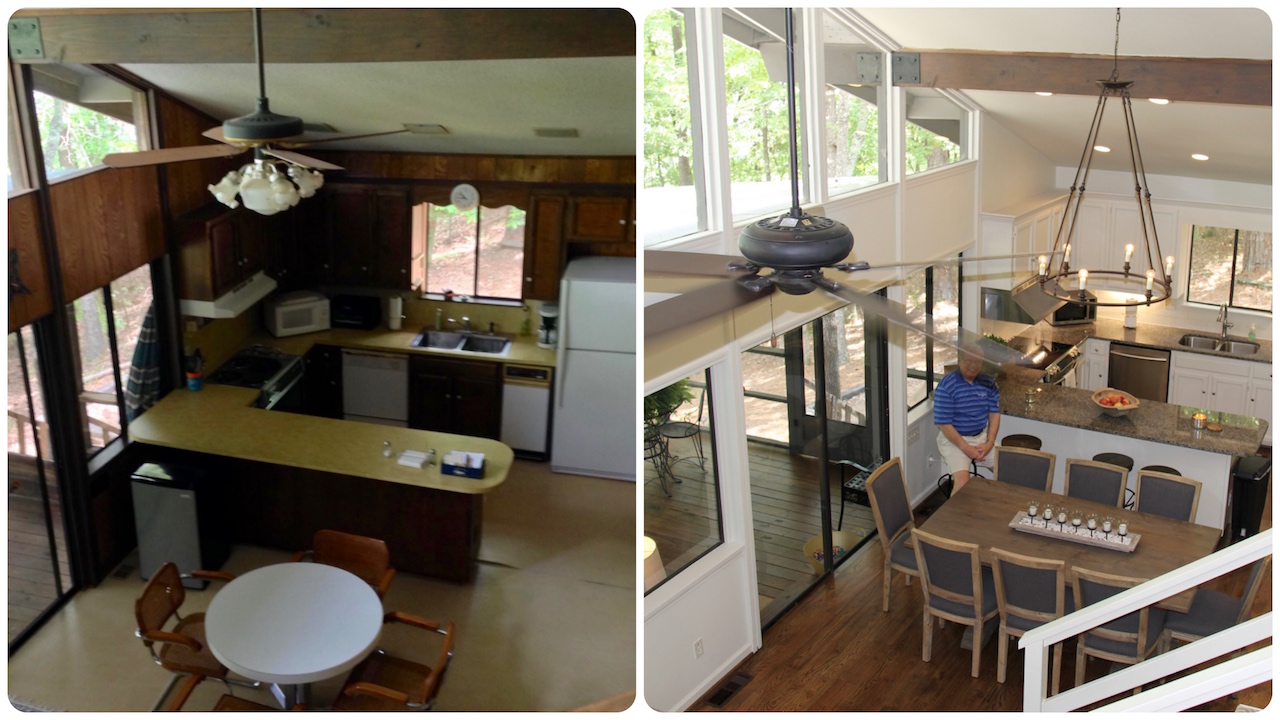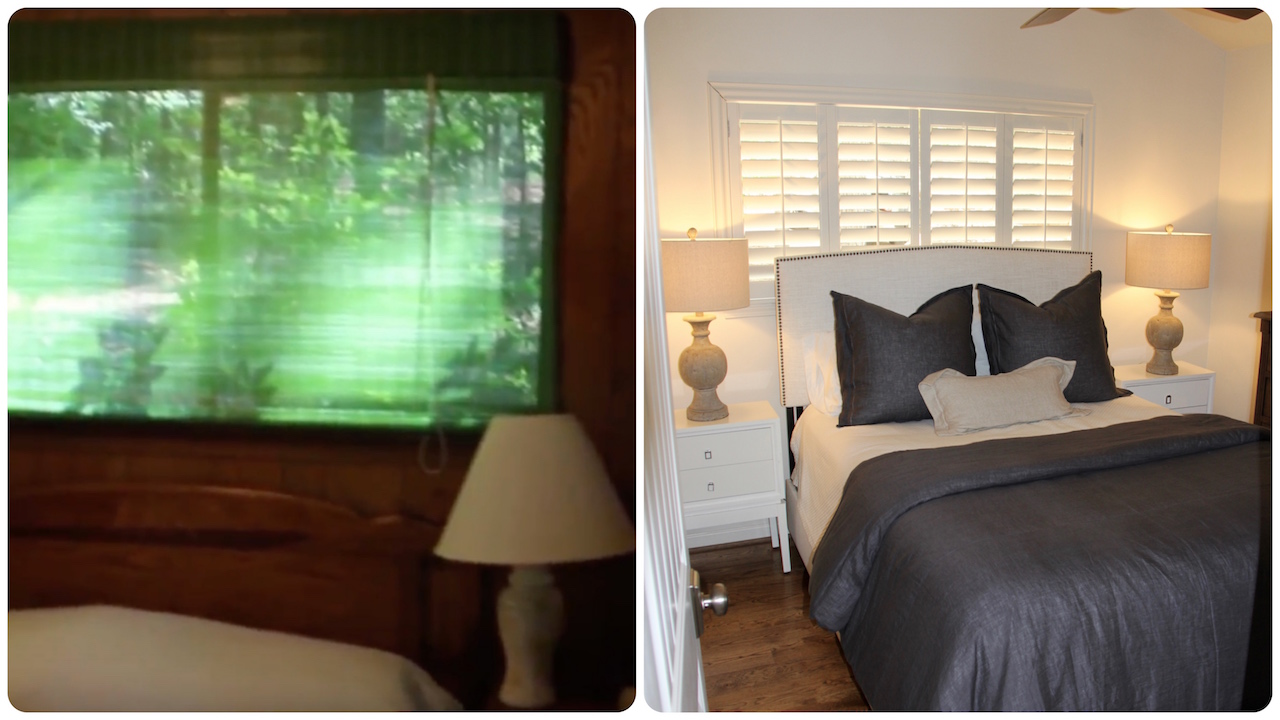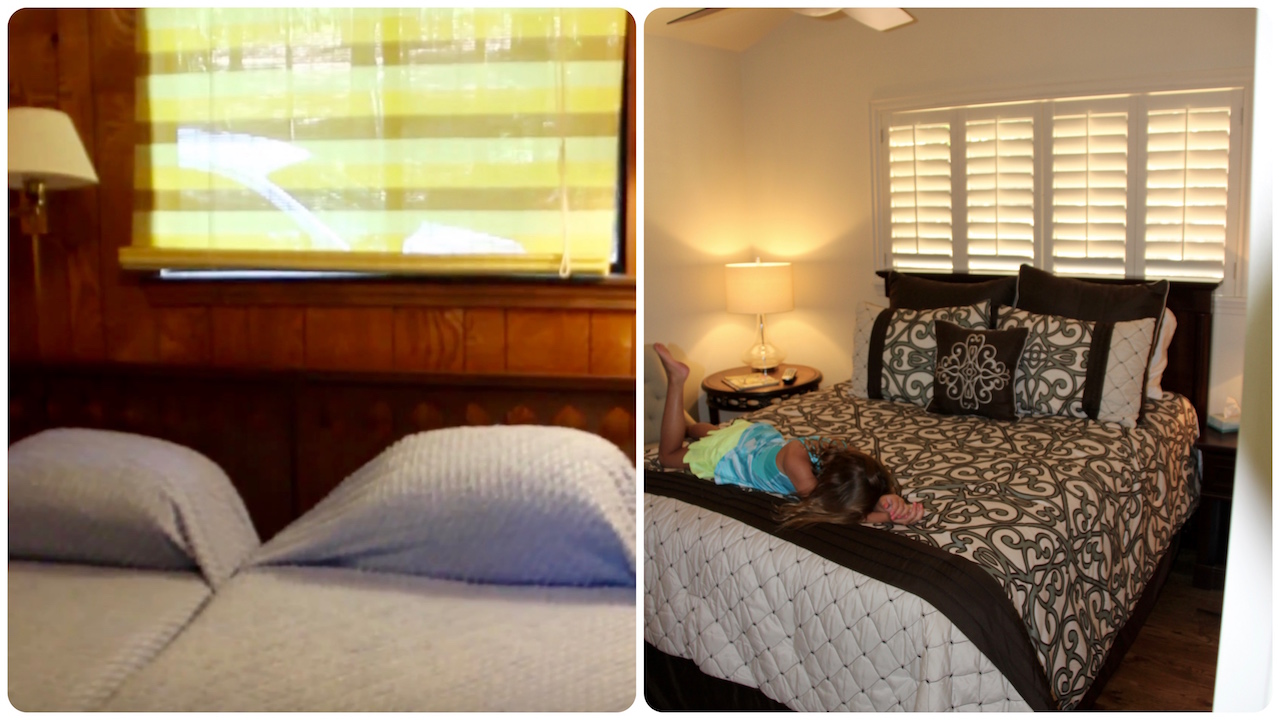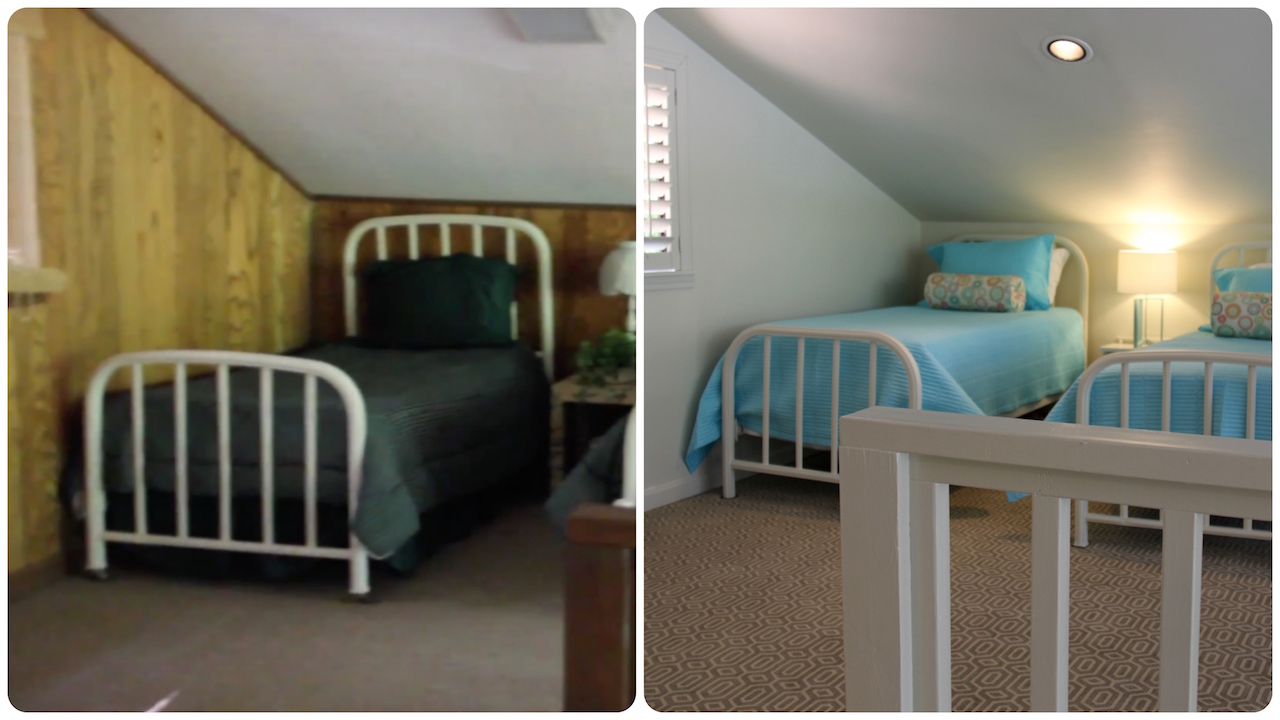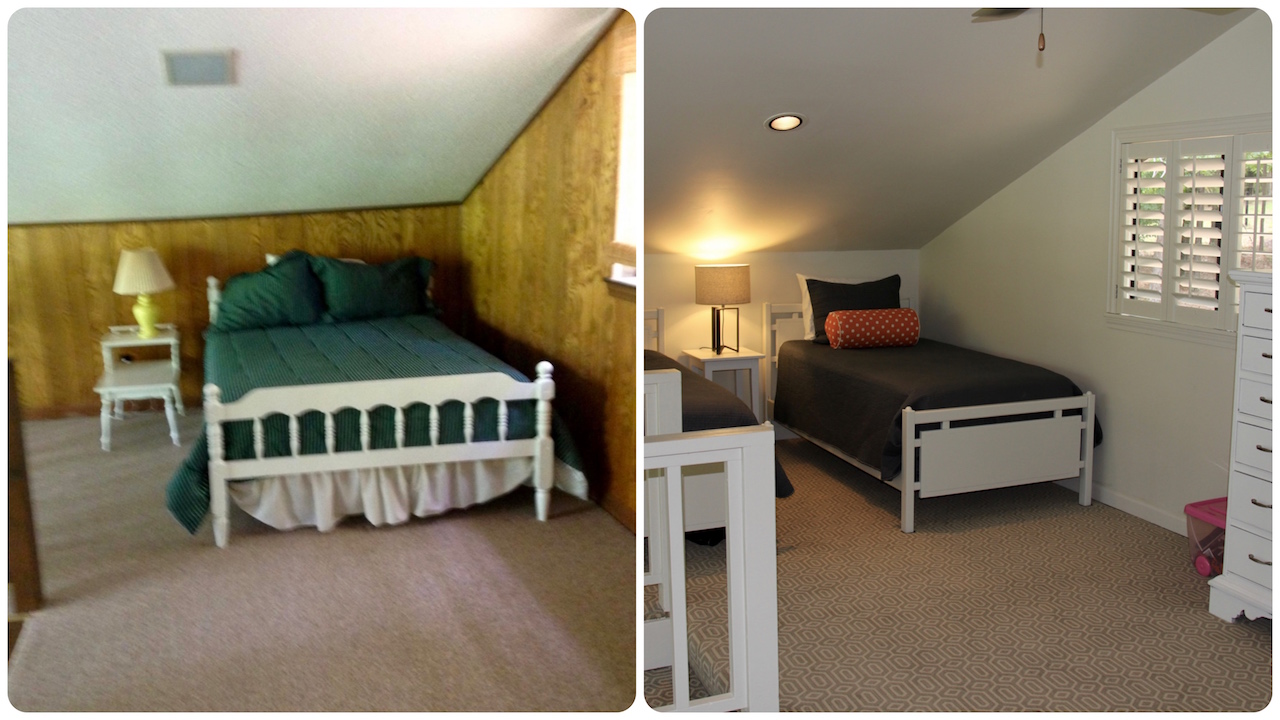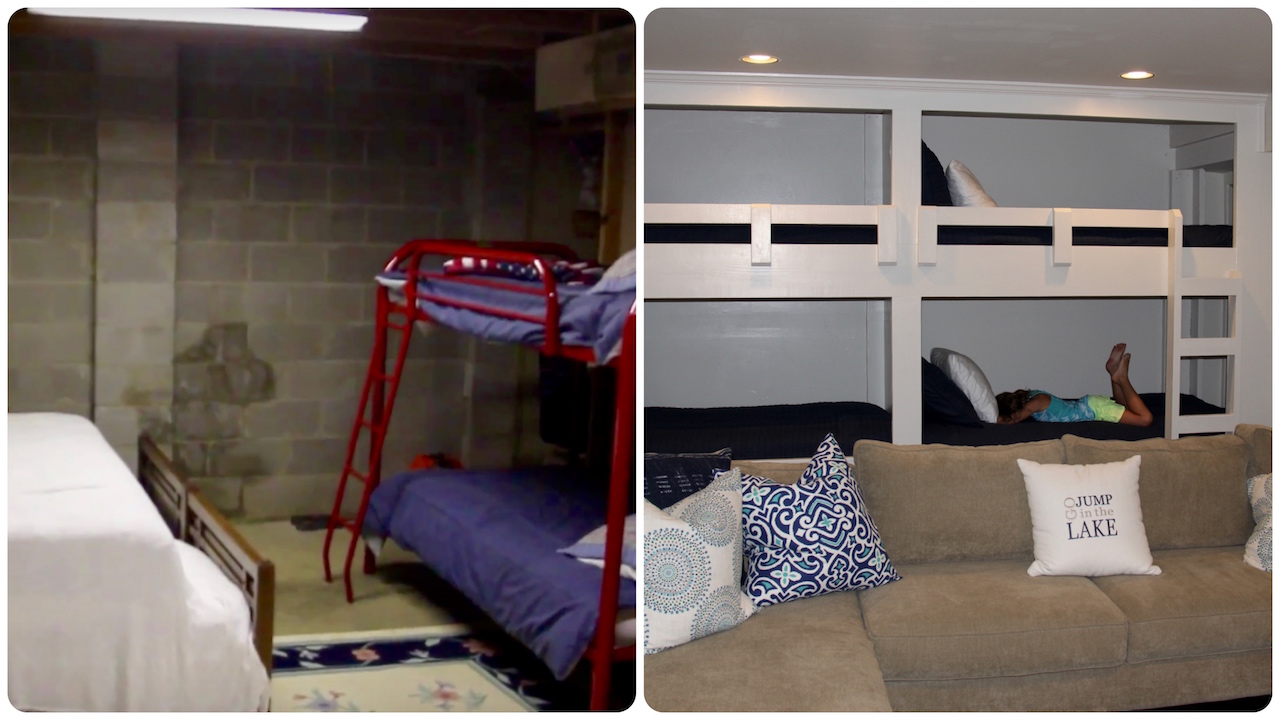 Earlier this summer I stopped by to see a Lake Martin cabin that I had sold a few years ago in the Parker Creek area.
This waterfront home built in 1983 is on a woodsy, private lot.  It had a good floor plan and great potential but was in need of some updating.
The new owners were excited to rejuvenate the home.  You should have seen their list of projects – "remove paneling, paint entire interior, remove popcorn ceiling, new stone countertops, replace all interior doors, install tile on bathroom floors …" and that was just the list for the interior.
The before and after photos below will tell the story of the exterior improvements.  They painted the home a good looking gray color and built a new entrance on the street side. The screened in porch (don't we all love those) got a makeover and the boat house and dock were repaired.
Stay tuned for more photos of this cabin – you won't believe the transformation of the inside.
By the way, if you are looking for a contractor or subcontractor to help you with a remodel, renovation, or new construction around Lake Martin, CONTACT ME HERE and I would be glad to make some recommendations.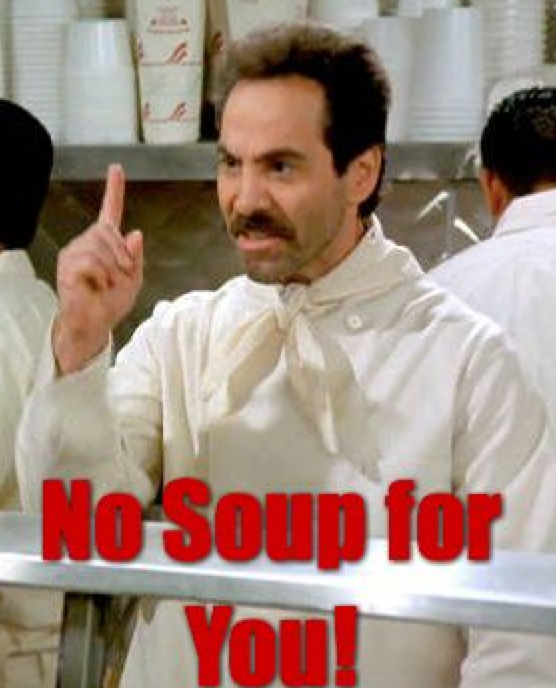 There are not many waterfront foreclosures right now in the Lake Martin market. I haven't run the numbers yet, but my feeling is that they peaked in 2009 or so. However, my Lake Martin Foreclosure list is still extremely popular with my readers and my real estate clients. I get a fair amount of folks who are only curious, but I also connect with people that end up buying later. Since I try and followup with everyone, I spend a decent amount of time explaining that buying a foreclosed home, on the water, at Lake Martin these days is a long shot. (Yes, there are plenty of good deals that are not foreclosures).
When I was setting up some waterfront homes to see tomorrow, I ran across a home on the MLS's Hot Sheet – I was initially interested because the house looked nice from the outside and it looked to be on a flat lot with a good view of Lake Martin. It was a foreclosure to boot- despite my generalities above.
I called the agent to show it, and he said, "you can't show that one. I haven't even been inside of it."
Huh?
Apparently there are people still in it and they are objecting to the sale. Agents can't show it. Buyers can't walk through it. You can enter a bid online, cash only, please sir.
OK.
If this one sells it will be one for the record books, sportsfans.
Can I help you find your dream Lake Martin home or lot? Contact me here or call me at the number at the top of the page.
Please download by FREE LAKE MARTIN VOICE APP before you call, or I will be so sad….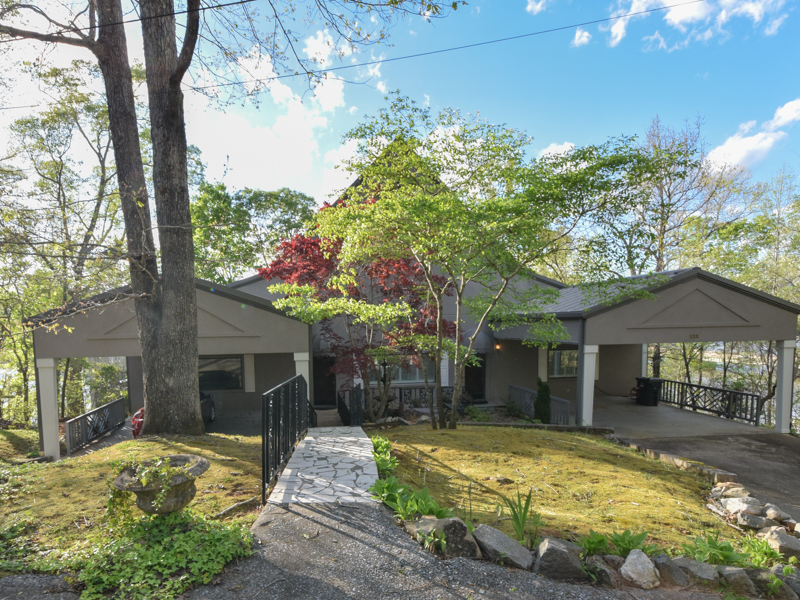 232 River Ridge Road, Alexander City
4 Bedroom, 4.5 Bath
$375,000
MLS 16-546
232 River Ridge Road is a big, beautiful two story home complete with stunning sunset views! Nestled in the trees, this home has sweeping views of the north lake area of Lake Martin. Its porches are larger than many homes!
With this house you have plenty of room for family and friends – 4,200 sq. ft. Per owner, "Downstairs sleeps 15 if they like each other, 12 if not!" It would be a great permanent residence or summer home with 4 bedrooms, 4 1/2 baths. The living room has a fireplace and mahogany built-ins with a soaring 40′ ceiling.
Outside this River Ridge area home features 207′ +/- waterfront, wooded lot, double covered boat slips and deep year round water.
For more info give John Coley, the listing agent, a call 334-221-5862 or drop him a line  [email protected]or contact him here.
Take a 3D Tour Below:
A very high percentage of waterfront homes on Lake Martin are on a septic system.
As a full time real estate agent at Lake Martin, I have learned that the septic system is one of the most important things to consider when buying a home here.
While I am not a professional in this field, I thought I would attempt to summarize the process of building and installing a new or repairing an old septic system, septic tank, or septic field line around Lake Martin.
Get an engineer to design a system – The engineer must make sure you know where all of the lot lines are, and the proper setbacks from those lines. They also must perform a percolation test to understand your lot's absorption rate. Once the system is designed I am pretty sure the County Health department must approve it on paper before you can proceed.
Get a septic installer to quote the cost of the system – As with any construction project, if you are installing a septic system on Lake Martin it's always a good idea to get an estimate from a few different reputable area contractors.
Install the system – The good contractors are usually very busy, so it might take a month for you to get one out to your house.
The County reinspects – After installation, the County Health Department comes out and reinspects the system to make sure you have built it according to design and code.
If you need references for Lake Martin area engineers, surveyors, and septic installers, I will be glad to provide them. Every case is different so please take my advice and be sure to get quotes specific to your home and lot. Don't just rely on a quote your neighbor or cousin received three years ago. Get specific.
At this writing, new septic system and septic lines are being installed at one of my listings at 236 Delilah Lane. I took the chance to shoot the above video to illustrate the process.
The septic guys around Lake Martin tell me that about 90% of the systems installed are pumped systems. This means the waste will be pumped from the septic tank to the septic field lines, which are basically a system of PVC pipes that allow the water to filter down into the ground. You can't have a lot of vegetation near the field lines, because you don't want roots to clog up your system. You will see in the video how they are clearing out some of the trees near where the field lines will go.
To trace the system as a whole, the waste is sent from your house to the septic tank. If the tank is uphill from your house, it goes to a pump chamber, then to your main tank. From there, if the field lines are uphill also (and they probably will be), it hits another pump chamber and then it goes to the field lines where it settles out into the soil.
If you have a question about septic tanks, please do not call me!!! I am just a real estate agent. If you have an issues or questions, you should consult with an engineer who designs septic systems.
If you have any questions about waterfront real estate on Lake Martin, you can contact me by calling me at the number at the top of the page or feel free email me! 
For other important things to consider when buying or building a home, CLICK HERE.
As the Lake Martin real estate market heats up, so do those that try and FSBO their waterfront home. I get it.
FSBO stands for "For Sale By Owner" – pronounced "FIZZ-bo" by the cognoscenti. Every market has their fair share and Lake Martin is no exception. As conditions shift into seller market status, it stands to reason that we will see more FSBOs. In fact, I usually counsel my more marketing savvy sellers to try selling it by themselves first. If you can call a few neighbors and friends and sell the home yourself, more power to you. Get a good idea of market value and a good real estate lawyer and you might pull it off.
The above note was sent to me by a buyer couple that I helped look around Lake Martin for a couple of summers. That's pretty normal – most second home buyers take a while to look since it's such a big decision.
Anyway, I showed this couple a variety of homes in different locations. I helped them get an idea of the market, and helped them sharpen their ideas about what they would need. They were pretty educated on Lake Martin real estate to begin with, since one of them is from here and they used to have a Russell cabin. So I wasn't guiding newbies, more like assisting grad students.
Their story had a happy ending! They ended up buying a home directly from a seller, a FSBO. I was really happy for them. They ended up writing me a sweet note and were quite nice about the whole thing. They were actually worried I would be upset! Ha!! Far from it!!
I was just glad to know they ended up with their Lake Martin dream home. Once I saw the home they bought, I couldn't blame them! It is perfect for them!
Since they wrote the note, my family and I have spent quite a few hours hanging out at their lake home, grilling out, wake surfing, and just relaxing. It has been great!
It's folks like them that make my "job" a lot of fun, and I am truly happy for them.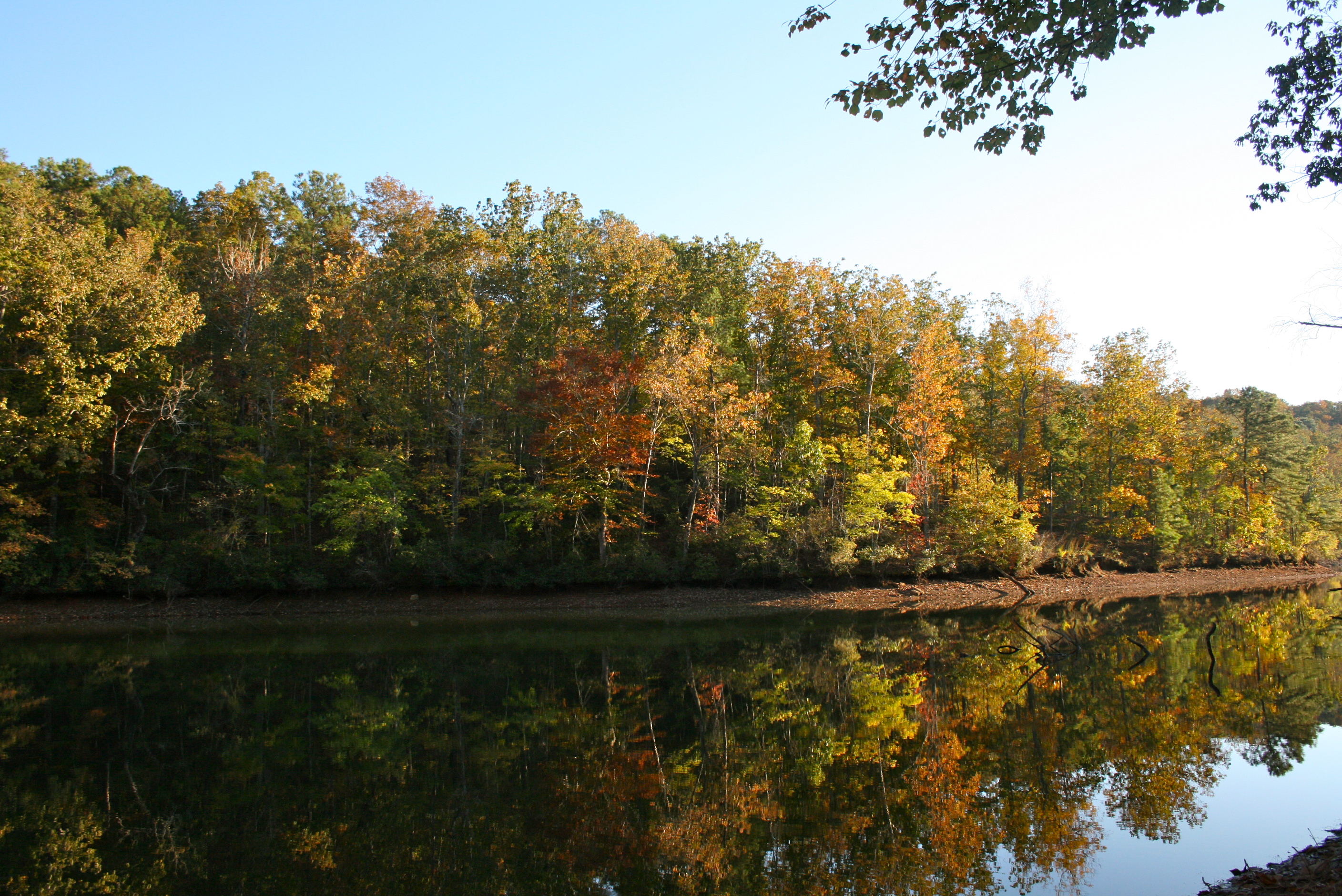 Are Lake Martin waterfront real estate sales seasonal? That's a question I hear a lot this time of year.
It's a pretty natural question, I think. If you own waterfront property on Lake Martin, you might be wondering whether or not to put it on the market now, or wait until the spring when the weather and the sales heat back up.
Or, if you are considering buying a home or a lot on Lake Martin, you could possibly be thinking that everything goes on sale after Labor Day.
To start with the buying side question, the answer is no. There is not huge price drop that happens after Labor Day. It just doesn't happen. A studied the numbers on this a few years ago and found that the sale to list price ratio does not change when the temp goes down.  See this link. This myth persists, though. But it is bunk.
What about on the selling side? Are there so few sales on Lake Martin in the cold months that you're better off to wait until the Spring?
I don't think so.
Some sellers might worry that they will have a higher Days On Market statistic in the Spring if they don't sell. I polled a few of my fellow agents and they agree with me:
It's better to have it on the market and have a few higher days on market. Nobody pays much attention to that piece of data. In our market it doesn't mean a seller is desperate, it usually means they are stubborn on price.
Think about it – if it's not on the market, agents (like me) can't advertise it. They can't put it in the MLS. No one knows about it. It definitely won't sell in that scenario.
Do you need help with Lake Martin real estate this fall? I would love to help out. I am a full time agent here at Lake Martin. Please call me at the number at the top of the screen or contact me here.
126 O'Daniel Point is a classic Lake Martin waterfront home in every sense of the word. Nestled among soaring trees, this three bed, two bath home is on a flat lot with a beautiful view. So many Lake Martin homes offer a great views, but you have to negotiate stairs or a long walk. Not so at 126 O'Daniel Point. Stroll easily back and forth, the home is a few flat steps away.
Located on the popular Kowaliga Bay area, the home is mere minutes from Kowaliga, Russell Crossroads, and Willow Point. By water, it's close to Chimney Rock, and so many other fun locations.
From the street entrance, you enter into the living room with vaulted ceilings and tons of room, and the kitchen nearby ensures everyone stays involved. The home is all on one story, so there's no need to hike up and down steps. Every room is accessible – the guest bedrooms and bath, the master suite, and all living room areas, No stairs!
The kitchen was updated in 2009 and features granite counter tops, stainless appliances, a deep sink, an island, and a great view of the water. The master suite also overlooks the water. The vaulted ceilings give the room lots of space, and sitting by the built in shelving can be a spot to relax, work, or just read a good book.
Outside, a huge screened porch offers a large area for more living. It's a great place for outside meals, games, or just observing the beauty of the lake. The porch overlooks the Tallassee Slough area of Kowaliga, just off the big water. It's the best of both worlds – seeing big water but not having traffic speed by just yards from your dock. When it's time to boat, your covered boat lift has it ready to go. This home has so much to offer – great view, Kowaliga location, a neat home on a flat, wooded lot. Schedule your showing today!
For more information, CLICK HERE for the listing page for this property.
Or, just call me, John Coley, directly at 334 221 5862 or contact me here. I would love to show you all this home has to offer!
A Lake Martin Leased Lot waterfront home is becoming an increasingly rare bird in our real estate market.
If you're new to searching the Lake Martin MLS, you might have noticed a field in the information sheet that looks like this: Deeded: Deeded or Deeded: Leased. This is shorthand. If we had more room, it would probably look like: Is This Lot Deeded or Leased? and then have the answer either Deeded or Leased.
What is a leased lot home on Lake Martin?
A fair question. It's a home where the seller is owns and is selling the improvements only, but they don't own the land underneath it. They lease the land, usually from Alabama Power. Historically leased lot homes are less than 10% of overall sales. For more information, see the Leased Lot category of my blog.
Why are leased lot homes becoming more rare on Lake Martin?
About two or three years ago, Alabama Power began selling some of the homeowners the lots which they lease. Mind you, this was not Alabama Power opening up new lots to lease or sell, this was them contacting homeowners on existing leased lots, and saying, in essence, "hey, do you want to buy this lot at $X?" Because of this (relatively) new phenomenon, we Lake Martin agents are seeing fewer waterfront leased lot homes for sale on the market. Those that are on the market usually have an option to buy the lot. Often, you'll see this noted in the (super secret) Agent Notes section of the Lake Martin MLS.
Recently, I had a buyer ask me about how one goes about purchasing a leased lot home with an option to buy the lot.
His Q: Is being able to secure purchase of the lot a reasonable contingency on a contract for the house? Would both transactions be handled together at one closing and with one mortgage or would they have to be separate?
My Answer:
"Excellent questions, I have closed a couple this way:
1.) That's an absolutely reasonable contingency. In fact, I as your agent would insist on such a contingency, broadly worded like "contingent upon buyer's obtaining an acceptable contract with Alabama Property company to purchase Lot X for $yyy,yyy and acceptable review of all lease documents." The idea here is that if you can't buy it for what you want, you're out of there.
2.) closing at one time is doable. I have had one where technically it was two closings but they happened at the same time, where you sat down at the table and signed a bunch of docs to buy the lot first and then a bunch of docs to buy them all together. But it felt like one closing. I can recommend lenders around Lake Martin that are used to this concept. I would not recommend getting lenders from out of town because they have a hard time wrapping their heads around the concept. No slight against them, it is admittedly a weird concept and if I hadn't seen it at Lake Martin I would know nothing of it myself. In fact, growing up here I didn't know anything about it, it wasn't until I started selling real estate that I learned about it.
FYI here's everything I have ever written about leased lots: Leased
It's a little outdated because of the above but it hopefully gives you a decent background.
Do you have any questions about Lake Martin real estate?  If so, please email me with this form or : info (at) lakemartinvoice (dot) com!