Lake Martin waterfront sales surged in July.The Lake Martin MLS* shows 15 closed sales in July, up from 7 in June, and 36% greater than July 2007 sales of 11.
Is this the rally point Lake Martin sellers have been praying for? Will this surge carry into August and the fall? Only time will tell.
Buyers of Lake Martin real estate don't need to worry, there are plenty of properties still for sale.  Even though the number of waterfront homes sold rose, so did the "active listings" aka homes that are "For Sale" rose also.  The active listings in July 2008 was 527 as compared to 510 in June 2008.
So as you see, we are still in a buyer's market, at about 35 Months' Inventory on the market (527 divided by 15 sold).  That's a lot. In order to get back to the sellers' market pace, we would need to be selling a lot more than this. 
Another interesting factoid is to look and see at what prices these 15 properties sold.  It looks like the majority was under $599,999, with a fairly large bulk at the $200,000 to $399,999 range.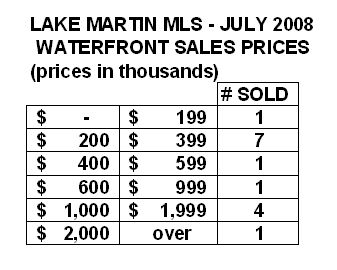 Are you thinking about buying on Lake Martin, and waiting for the right time? Contact me at the phone number at the top of this page, or email me.  I can help you run the numbers, and cut through all of the noise to help you find what's right for you.
What do you think, Reader?  Will this increase be sustained, or is it a flash in the pan? Please comment below in the "Leave a Reply" section.  If you can't see that, then click "Continue" and scroll to the bottom.
(*)Disclaimers: All of the above info was taken from the Lake Martin Area Association of Realtors Multiple Listing Service. Accuracy is not guaranteed but deemed reliable. The above does not include sales by FSBOs or developers that sell privately and not through the MLS. But, I do think that the above represents a very large majority of all sales on Lake Martin.

Related Posts: