The numbers confirm what we all felt in our guts – according to the Lake Martin Multiple Listing Service – in the second quarter of 2008, sales were down compared to 2007.  Also, just as importantly, the number of active listings was up, therefore keeping a lot of pressure on sellers.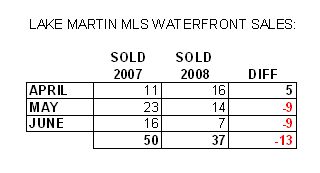 If you recall, in 2007 by June we really had a pretty good idea that we were in for a miserable drought.  I would have thought that meant June 07 waterfront sales would be a lot lower than 2008 (drought tempered).  But I was wrong.  The year to date numbers get even uglier.  If you read my post about the first quarter sales results, you may remember that we had sold 17 waterfront properties through March 31, 2008 versus 43 through March 31, 2007.
If you add the first and second quarters together, I guess someone revised a few sales because the year to date totals at June 30 are 93 for 2007 and 57 for 2008.  Here is a graph to show it: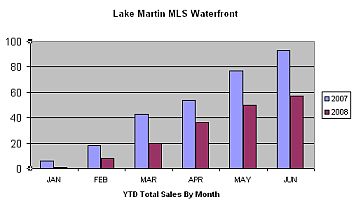 This graph shows the waterfront sales, through the entire Lake Martin MLS, through June 30 of each year.  Each month is cumulative.  E.g. through May 08, 50 had sold on the entire lake.  7 were sold in June, so at June 30 the Year To Date Total is 57.  Again, I am just trying to show the cumulative effect.
Maybe we have more water in 2008, but Lake Martin also has another thing that is equally potent: more listings for sale.  See the below graph.  Note that in 2007, the total number of waterfront listings for sale peaked at around 450.  Through June 30 we are way past that, at over 500:
I hate  to keep beating this drum, but it always comes back to supply and demand.  We have 10% more for sale this summer than we did in 2007.  This is why sellers must be absolutely focused on their pricing, staging, and marketing.  If we continue to have more overpriced and undermotivated sellers on Lake Martin, look for the "days on market" stat to climb even higher.
(*)Disclaimers: All of the above info was taken from the Lake Martin Area Association of Realtors Multiple Listing Service. Accuracy is not guaranteed but deemed reliable. The above does not include sales by FSBOs or developers that sell privately and not through the MLS. But, I do think that the above represents a very large majority of all sales on Lake Martin.
Related Posts:
Lake Martin Is High, But So Is Real Estate Inventory
Lake Martin Waterfront Sales: April 2008