Cotton's BBQ has some competition.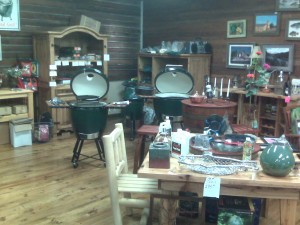 Last week I ate at the Red Hill Cottage Cafe with my fellow Lake Martin realtor John Christenberry.  He had been there before, and claimed that their barbecue was as good as Cotton's.  I laughed at him and accepted the challenge.
Verdict:
John was right, it is really good.  Apparently their angle is that they cook everything on Green Egg Grills.  They are also distributors for the Green Egg and you can get related supplies there, as well as a bunch of other lake home decor and furniture.  It all looked nice, but I was there on a mission for Q.
I am an admitted stickler for good BBQ, therefore  I am really tough on Q restaurants.  The Red Hill Cottage Cafe passes easily.
Method: As stated before, they cook on Green Egg Grills, so that means their Boston butts are directly suspended over the coals.  The good thing about this is that when the fat is rendered out, it drips down into the coals, sizzles, and returns as flavor bombs that return to the butt.  Yum.
Presentation: I ate a sandwich, and the meat was of the pulled persuasion as opposed to Cotton's that chops.  No judgement here, to each his own.  But I do think that the pulled method helped Red Hill expose the fabulous job on the meat.
Sauce: The sauce was good.  Tomato based, sweet yet not overwhelming.  They also did not put too much on it to hide
the meat.  That's one thing I don't understand about some places, they purportedly spend 12 hours cooking the meat and then smother it in sauce that they cooked in 30 minutes.  Personally I like Cotton's tomato based sauce better. One suggestion – I wonder how good Red Hill's pulled pork would fare with a vinegar based sauce that can penetrate every nook and cranny on that sandwich?  Plus they would be the only ones in the area with a vinegar based sauce.
Cost: It was cheap.  $2.95 for a sandwich.  Every lunch gets free dessert. I would say that the same meal at Jim N Nicks would be $15 pre-tip and it would not be 1/2 as good.
The Last Word: Great – a welcome addition to the list of Lake Martin restaurants. Their barbecue is so good that I wonder why they do anything else.  It is every bit as good as Cotton's, and for me that is saying a lot.  I think they will benefit each other, because they all help traffic, which helps all area restaurants.  In fact, Red Hill, along with Green Valley, Cotton's, and Catherine's, are worthy foils to the east side eateries of Niffer's and another of my prime favorites – Oskar's.  But thankfully Red Hill's menu is different enough from each of them that I think all can peacefully coexist.  Johnny G's, however, had better step it up.
Where: The Red Hill Cottage (I guess it's the name of the decor store) and Cottage Cafe are located on Alabama highway 229, just south of the intersection with Highway 50, by Castaway Island Road.   Official address is 4068 Red Hill Road, Tallassee.  Phone is 334-857-2233.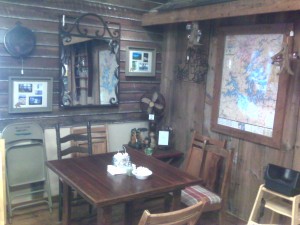 When: According to their menu, they are open 7 AM to 7 PM Wednesday through Saturday.
What: DOWNLOAD RED HILL'S MENU HERE – they serve a lot more than BBQ.  Even breakfast.  In fact, I went back the day after the Q meal and ordered 2 smoked turkey sandwiches, 1 smoked ham sandwich, 3 bags of chips, 3 co-colas, and got 3 free desserts (nanner pudding, bread pudding, and strawberry cobbler).  My bill total was like $15 pre-tip.  Not bad, and the sandwiches were great – a worthy "chick option" to the Q.
Hey Reader – what's your take?  Leave a reply below and let me know about your experience!  If you don't see the "Leave a reply" below this, click on the word "Comments" and leave one so we can all benefit.