As a Realtor on Lake Martin, I get to walk through a lot of cool lake homes. A really fun part of the job is seeing how people decorate their lake homes.
Recently I sold a home in the Little Kowaliga area of Lake Martin off of Kamp Kiwanis Road. The sellers had a lot of really unique, lake-y decorating ideas. One of them was a pair of Adirondack style chairs that they made using old wooden skis.
It looks to me like you need about 3 pair and half (or a slalom ski) to do one chair. I think you might as well make two chairs while you're at it, using 5 pairs.
The basic setup is:
1. One pair (cut in half) for the legs.
2. The second pair for the armrests and the outside backrest slats.
3. The middle or longer slat in the backrest comes from a slalom, or if you're making 2, on of the armrests from the other chair.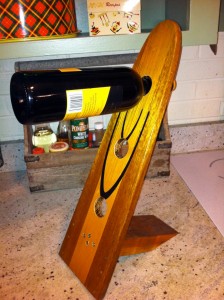 The rest of the wood on the chair (like the seat slats, one behind the backrest, and some support underneath) come from regular wood.
The big stress points are held together with little bolts. The rest are little wood screws, and I'm sure they added glue.
When you're done, you may be left with one or two end pieces of a ski. Don't throw them away – make a wine rack from them:
If you have some old wooden skis laying around that you don't want, let me know. I want to try this!