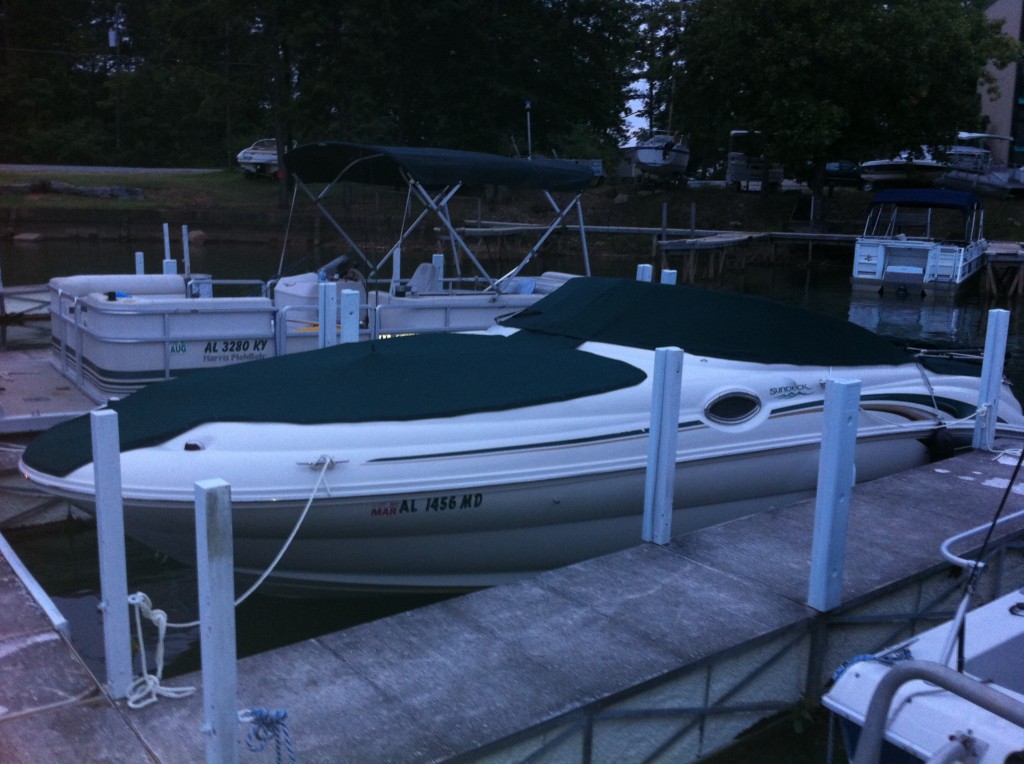 I have been fighting it for a month, but I have finally succumbed to winterization.
My boat, of course.
I had been holding out hope that I could squeeze in one more boat ride, but with the cold weather coming on, there just wasn't enough time.
I must admit that I feel pretty smug that I got the goody out of it this fall. The warm fall weather afforded many a fun family ride and (per IRS regulations) a very conservative amount of deductible business expenses.
Have you ever taken a boat ride on Lake Martin on a Sunday afternoon in October?  Pure solitude, almost guilty fun.
Thanks to John Christenberry, I can say that we at Lake Martin Voice Realty even scored an atypically late – October 28 – real estate showing by water.  That is just one of the many records Christenberry has racked up in 2011.  More on that later.
Not A Defeat
To Winter's uneducated eye, this may appear to be a defeat.
My lovely Sea Ray Sundeck is now on the rack, full of antifreeze, seemingly powerless.
Au contraire, Emperor.
Like the Russian generals against Napoleon, I am merely baiting him to waste his resources for months, whilst I lie in wait at my dacha. 
This is not over.  I live to fight again and will strike at Winter soon, preparing in the meantime anchorages laid bare by his low water complacency.
My Advice: Don't Criticize It, Winterize It
If you haven't winterized your boat, you had better do it now. Quit procrastinating. If you don't have time, or, worse yet, don't know what winterizing means, I recommend these Lake Martin boat mechanics:
Steve Northington at Cathouse Marine – (334) 358-2838 – Steve is the darling of the forum folks at LakeMartin.com. He resuscitated my boat from a salty death.  Impossibly, he reforged the blade that was broken. Highly, highly, capable.
Clarence Cunningham at Anchor Bay – (334) 857-2654 – Clarence is excellent and is the one bailing me out of winter's clutches this year.  I do not winterize my own boat, I trust it to Clarence.  In fact, I have not tried any of that sort of thing since my wife was nine months pregnant and I almost ruined our SUV by attempting a "simple" oil change.  One has to know one's own weaknesses.  The longer I live, the more I discover in myself.
If you are like me, and know better than to attempt your own winterization, call one of them.  Tell them I sent you.