Sorry I haven't posted this info, but July 4 tends to be a wee bit busy around Lake Martin.
Firstly, any Lake Martin area paddle boarders please note – there is another race this coming weekend (July 14, 2012).  It starts from and is organized by Kowaliga Marina.  If you are interested, please call Scott Goslin at Kowaliga Marina at 334-857-2111 or 256-496-0713 or email Scott at [email protected].
Their race is going to be a lot of fun.  It is also free, and registration is at 8:30 AM on race day, with the race starting at 9:00 AM.  The course is a one mile race, starting from the beach by the restaurant near 255 Kowaliga Marina Road, Alex City (where the Aquapalooza stage was set up) and it goes under Kowaliga Bridge, and around the island in front of the lighthouse at Children's Harbor.
They will have prizes for first and second places in each category. Instead of having multiple races, they will have multiple categories of racers: 1.) Under 18, 2.) Men's Open (age 19 – 55), 3.) Women's Open (age 19-55), and 4.) Masters (55+).
I think this is a great concept – and I can't wait to be there to see the sight of lots of paddlers heading out under Kowaliga Bridge.  I plan to be there to volunteer to help Scott.  He was super nice to help us at the Castaway Island race as our official time keeper. That was one of those things I forgot about until race time. Someone asked, "who will keep time?" and I had a blank stare on my face until Scott stepped up.
So I am putting the call out to all Lake Martin paddle boarders. Let's step up and support this event at Kowaliga, I think that Russell Marine has an awesome idea here, and I would love to see this race swamped with paddlers.
Again, to sign up or get info on the July 14, 2012 race, please don't call me, I am not officially involved. If you are interested, please call Scott Goslin at Kowaliga Marina at 334-857-2111 or 256-496-0713 or email Scott at [email protected].
Results from the Castaway Island Paddle Board Race
For those of you who have not seen them on our Facebook Event Page, here are the results of the Castaway Island Paddle Board Race held at Anchor Bay Marina on June 30, 2012: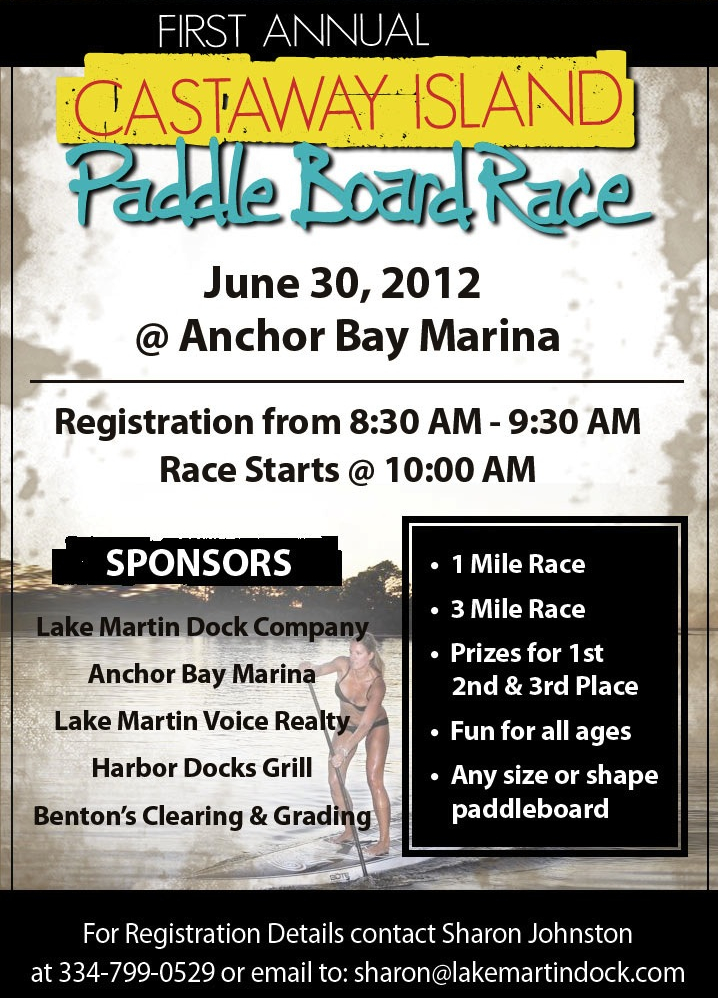 Castaway Island Paddle Board Race Results, The One Mile Race [place. time (min:seconds) name]:
1. 13:55 Guy Huie; 2. 14:39 Ben Morris; 3. 14:49 Banks Petrey; 4. 15:15 Ross Bailey; 5. 15:28 Micheal Payne; 6. 15:57 Kevin Voyles; 7. 16:20 Tony Gaede; 8. 17:56 Kristine Dobbs; 9. 18:54 Ashlyn Jones
Castaway Island Paddle Board Race Results, The Three Mile Race [place. time (min:seconds) name]:
1. 35:44 Pete Buzzelli; 2. 38:34 Magda Cooper; 3. 39:32 Corey Cooper; 4. 39:53 Rick Moore; 5. 43:51 Michael Etienne; 6. 43:58 Chris Pignato; 7. 45:46 Mike Pearson; 8. 47:17 Travis Krauel; 9. 48:43 Kim Moore
The 1/2 Mile Sprint Race [place. time (min:seconds) name]:
1. 6:11 Pete Buzzelli; 2. 6:22 Corey Cooper; 3. 6:38 Rick Moore; 4. 6:41 Magda Cooper; 5. 6:54 Michael Etienne; 6. 7:26 Ben Morris; 7. 7:54 Guy Huie; 8. 8:12 Kevin Voyles; 9. 8:56 Tony Gaede; 10. 9:07 Banks Petrey; 11. 9:12 David McGirt; 12. 9:43 Michael Payne; 13. 10:04 Jodie McGirt; 14. 11:47 Minerva Huie; 15. 11:56 Jake Litz; 16. 11:57 Luke Knight; 17. 12:09 Jack Coley; 18. 12:22 David Powers; 19. 12:52 Keith Hamrick; 20. 13:01 Tricia Hurd Reaves
Pictures from the Castaway Island Race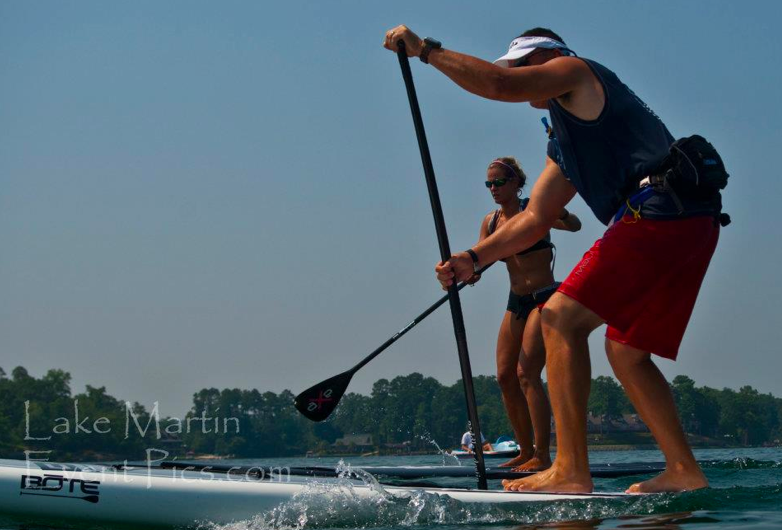 We were extremely fortunate to have Mike McKay of Lake Martin Event Pics to step up and be our event photographer. He took so many really cool photos, you just have to go to his page and check it out. Scroll down and click on his 2012 Lake Events link, then see the two albums he made for the Paddle Board Race. Incredible footage, even if you didn't participate. He even got in the water at a swimmer's level to capture some unique angles. In the course of planning this race, I scoured the web for races all over the country, and did not find a finer set of pictures than Mike did, right here in little ole Lake Martin.
A Huge Thanks To All
I have already thanked all of the sponsors, but I would again like to say thanks to Corey and Magda Cooper, and Ross Bailey of Bote Boards, who came up from Destin. They made the race legit with their presence and know how, and it was great to meet them. I also can't imagine the race without all of the fun crowd from Paddle Destin. Until this race, I had no idea that paddle board clubs existed. Not only do they exist, they thrive, and are a heckuva lotta fun. If you are in the Destin area and like to paddle, these guys are who you want to know. Not only can they offer you training buddies, but they are a lively bunch! Please come back next year!
The biggest thanks I will reserve for the Lake Martin community which embraced the event. Thank you for coming out and supporting it, we all really appreciate it. Hopefully we will have even a bigger turnout next year.
Beyond
Sharon Johnston of Lake Martin Dock Company has already taken the next step – forming a paddle board club of our own here on Lake Martin! Contact her by clicking here – Lake Martin Dock Company – to get involved – or go to the Paddle Lake Martin page.
See you at Kowaliga's race on the 14th!