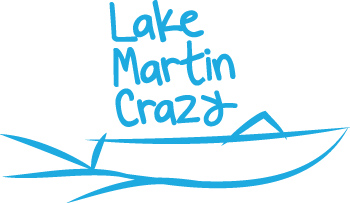 Lake Martin Crazy.com:  Lake Martin, AL shirts, hats, visors, gifts – locally designed and made.
For the past few years I've been asking, "Where can we get cool Lake Martin gear?"  Why is it nearly impossible to find online?  Why must we settle for those see-through t-shirts, cheesy hats, and gas station designs that are 1) not cool, or 2) almost cool, but not cool enough to actually buy?  Why must true lake people wear beach stuff (at the lake) in order to maintain their dignity?
We couldn't find it, so we decided to make it ourselves.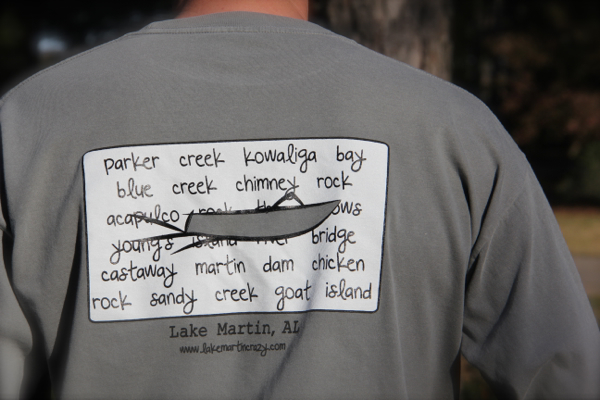 Everything we offer at Lake Martin Crazy.com is bona fide. We think it's wise to start small, but our plan (Lord willing) is to offer more and more local products, and for these items to grow more and more hyper local.  You want a visor with "The Narrows" on it?  We'll soon have it. Art from local artists?  We're working on that, too.  You can peek at our initial offerings in the slide show below, or CLICK HERE to go straight to the website.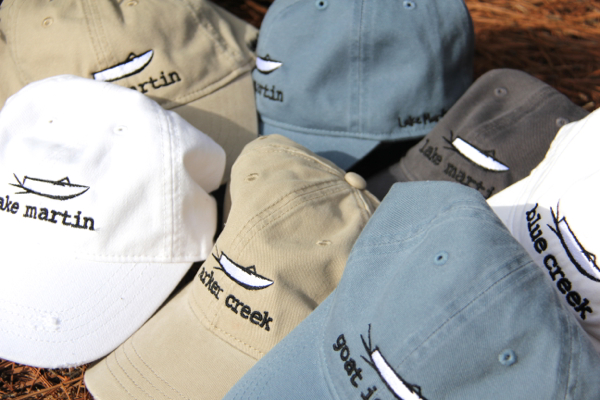 When we sat down to design our logo for Lake Martin Crazy.com, we asked ourselves,  "Is there a quintessential Lake Martin image?"  Landmarks abound at the lake – but what speaks to everyone?  It can't be too beachy or too mountainy – Lake Martin isn't really either of these.  And Lake Martin, per se, is a weird, complicated shape, wrought by nature and Alabama Power – not exactly the coolest graphic for clothing.
So we chose this image of the boat.  It's fun.  It's simple.  That's the essence of lake life, and the spirit we hope we've captured. We hope we have done OK, because, hey – we are from here. We have tried to outrun rainstorms in the boat. We have run out of gas and had to be towed. We have been lost on Bay Pine Road.  So it matters to us that we get it right, because, let's face it, anyone from China to Chernobyl can print a t shirt these days. Big whoop. But if you are crazy about Lake Martin, and want stuff from folks who are, too, well…
Oh – did we mention these items are only available online?   You won't find them at the local fruit stand.  We like the term "exclusive."
Take advantage of our free shipping and order away!  Buy something for yourself, and then surprise a friend who still thinks Lake Martin merchandise is still the stuff of gas stations and bait shops.
And, yes, I still sell real estate on Lake Martin and would love to help you with that, too. Don't worry, we are not quitting our day jobs. In fact, I (John) am sure that this whole online retail thing will burn me out before long when I figure out that maybe there was a reason that no one was providing hyper local Lake Martin products online, that maybe it's not worth the trouble. But until then, there is no reason why you can't cash in on my hubris. Cool Lake Martin gear, shipped to you free. You win.