This Real Island / Little Kowaliga waterfront home renovation is for all of you HGTV lovers out there . . .
My clients, Lee and Amelia, are new owners of this lake home that sits on an amazing lot in the Real Island area.  The lot is awesome, and they had been house hunting long enough to know that the value of a Lake Martin property is in the dirt, so they jumped on it.  Even though the home was not exactly what they'd had in mind . . .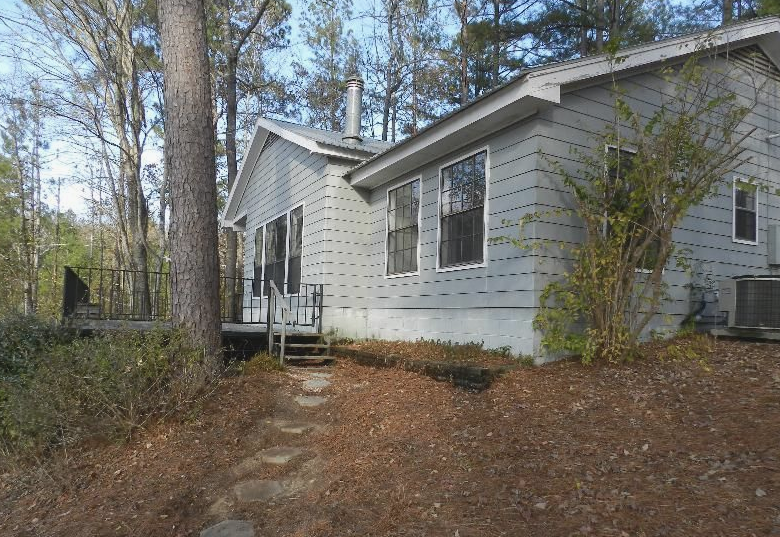 The house was built in 1980 and is pretty rough around the edges – 33 years of use and not much updating.
It's a three bed / two bath home already, but the floor plan is a little wonky, and the space could be used much more efficiently.  As part of the renovation plan, Amelia wants to keep as much of the original footprint, while bumping out a little here and there to make room for her family of five, plus their friends and extended family.
I think this renovation is smart.  At the lake, the home is primarily used for sleeping and eating.  These homeowners are making the most of the space for these activities, and the final product will be clean, spacious, updated, and functional.  But they are also remembering that the value of the home is in the dirt, and they're not going overboard on things that, ultimately, do not add a lot of value to their investment.  This is going to be a fun house.
With the help of Southern Traditons Construction's, Doug Fuhrman ([email protected]), this home is about to be gutted and transformed it into an updated, functional, vacation home. Stay tuned to see what choices are made along the way, and for the big reveal at the end.
If you're interested in the Real Island / Little Kowaliga area of Lake Martin, check out our Little Kowaliga Neighborhood Page.   Here you'll find everything you need to know about this popular part of the lake – a history of the area, video tour, maps, and most importantly, a live feed from the Lake Martin MLS showing homes that are currently for sale in the area.
If you're on the lookout for a good deal on a home at Lake Martin, give me a call at (334) 221-5862, or CLICK HERE to contact me and let's talk waterfront real estate.  I'd love to be your Realtor.