June waterfront home sales on Lake Martin were up 44% from last year!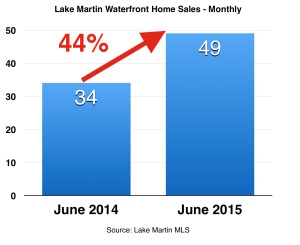 Yes, you read that right. The Lake Martin real estate market is doing well this summer. June of 2015 beat last year in sales by 44%. That's not the only good news! If you look at the year to date, we are selling well ahead of the prior year. 2015 is beating 2014 by 26%! That is impressive because 2014 was a record year of home sales on Lake Martin, even better than 2005.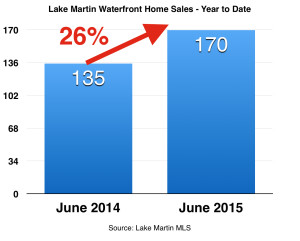 ACRE pointed out on AL.com that supply is down 6.8% and we are still having rising demand and sales even with a lesser supply.  You can read more from this article on AL.com by clicking HERE.
Another factor that is incredible is that lot sales are pacing far ahead this year as well. We have sold 46 lots through the Lake Martin MLS. That's all realtors and all brokerages in the Lake Martin area. Last year at this time we had sold 25 lots through the MLS, and last year was a great year for lot sales.
Just to recap, waterfront homes are pacing ahead by 46% and lot sales are pacing ahead by 84%. Overall, we are doing great in sales so far! Keep updated with Lake Martin market statistics HERE.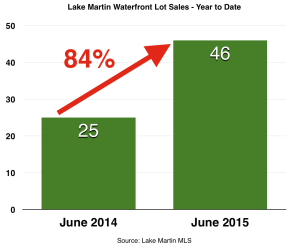 If you have any questions or need real estate help on Lake Martin, feel free to contact me, John Coley, with THIS FORM or at john (at) lakemartinvoice (dot) com or  334 221 5862.
Would you like to search the Lake Martin MLS from your smart phone? Then download the Lake Martin Voice free app!