Lake Martin home sales have been great, but what is the magic statistic that lets us know if home prices are on the rise?
Is there a magic statistic that lets us know that Lake Martin waterfront home prices are on the rise? I decided to look at a months of inventory, which I think can give us a better inclination if prices will be rising. If you are not familiar with the term, months of inventory can be found by taking the number of homes for sale now and dividing it by current month home sales.
In the case of July 2015, we had 359* waterfront homes for sale at Lake Martin, and we sold 42 waterfront homes on the whole lake, that's all agents, all brokerages. That gives a months of inventory statistic of about 8 1/2 months. This means that if we sold at that rate in 8 1/2 months, we would run out of homes to sell.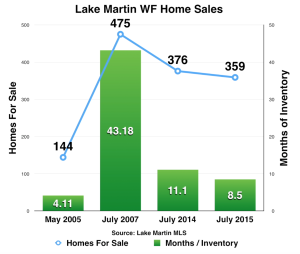 It's hard to tell if that's the magic number or not. I like to look at trends and see where that number is going. I don't really peg my hopes on any one statistic. Looking over some of the past years, in 2014 there was 11.1 months of inventory with 376 waterfront homes for sale on Lake Martin. In a year, our ratio has gone down with less homes for sale and more sales, which is great for sellers. 
To get some perspective on this statistic, I wanted to look at the best and worst summer months the Lake Martin real estate market ever had. If you look at July 2007, one of our worst summer months, there were 475 homes for sale and a months of inventory number of 43.18.   Terrible. Our best summer month we have ever had, May 2005, there were 144 homes for sale which equated to a  4.11 months of inventory.
Looking at this year, we are doing a lot better than last year with a 23% decrease. I'm going to keep watching this statistic. Will prices go up as fast as they did in 2005? I don't think so, because there is not as much pressure – a higher months of inventory. But, I do think home prices are going up here at Lake Martin in 2015. We just have tons of momentum.
If you have any questions, please contact John Coley with Lake Martin Voice Realty at 334 221 5862 or emailing directly at john (at) lakemartinvoice (dot) com.
**************************************
Copyright notice – the above, and every other post on this blog, is the property of John Coley, Broker, Lake Martin Voice Realty. Appraisers may use my information in their appraisals without charge or asking, but please give me credit by citing me, my company name and title, and website address of https://lakemartinvoice.com.  If anyone else would like to use this information, please contact me here and ask. I probably will let you do it, just please ask!
(*)Disclaimers: All of the above info was taken from the Lake Martin Area Association of RealtorsMultiple Listing Service. Accuracy is not guaranteed but deemed reliable. The above does not include sales by   FSBOs or developers that sell privately and not through the MLS. But, I do think that the above represents a very large majority of all waterfront sales on Lake Martin, Alabama.