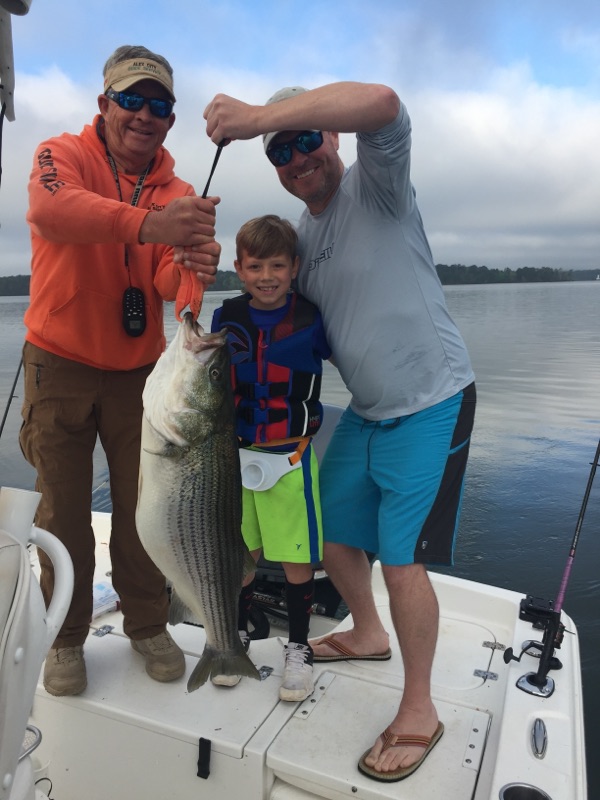 I first met G. C Lewis and his family when I was helping them find a waterfront lot on Lake Martin. Being an Auburn alum G.C. was interested in building a lake home close to Auburn. Since the Lewis family lived in Georgia they were weighing their options at Lake Martin vs lots at Lake Chatuge in Georgia. They realized Lake Martin had a lot more to offer in terms of amenities and restaurants.
We found a lot in Shady Bay that was perfect for them. They hired Bryan Jones of Jones Pierce to design their home. The Lewis family was so excited to move forward with their plans to build at Lake Martin.
It is so much fun for me to keep in touch with my clients over the years. The Lewises were new to Lake Martin but as you can see in the photo above, they quickly learned the fishing hot spots with help from David Hare.
David Hare, owner and head guide of Alex City Guide Services, is one of the best guides on the Lake and certainly one to talk to about learning to fish Lake Martin. Give him a call at 256-401-3089 or email him at [email protected].
If you are looking for a lot at Lake Martin and ready to start planning your lake getaway, call or text me, John Coley at 334-221-5862  or by clicking here or email me – [email protected]. I would love to help you navigate around the Lake and catch your great real estate deal.