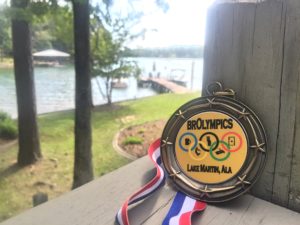 What better place than Lake Martin to reunite with old friends and family? Now's the time of year we all start eyeing the calendar and carving out some vacation time.
I thought it'd be fun to share an aspect of a gathering I've attended here at the lake. It's a get together of old college buddies – just the guys.
I know what you're thinking – mid-life crisis types trying to relive the nuttiness of their youth. Actually, these days, we are more concerned with good coffee. Instead of trying to avoid rooming with the guy that will keep you up all night, you're worried about which oneS of the group have to sleep with a CPAP.
One (of the more creative) of the group came up with the BrOlympics concept last year. It's pronounced "bro-lympics." We "competed" in several categories. Wake surfing, ordering food food at Kowaliga, cards, cornhole, and responsible beer drinking. It was a huge hit! He even made a gold medal for it.
This summer, I encourage you to reach out to your friends, loved ones, and, hey … even your family :)!
If you need help planning your weekend, download my free Lake Martin Voice app here. It has all of Lake Martin's events in one easy spot!