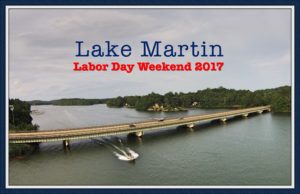 Are you headed to Lake Martin for the long Labor Day weekend? There are plenty of options for things to do as we celebrate the end of the summer season.
Here are a few things to do around Lake Martin for Labor Day 2017. For a full list and more details see my free Lake Martin Voice app – the best way to keep up with Lake Martin events and an easy way to find the restaurants, shops and landmarks.
Friday on the Green at Russell Crossroads – 6:30-8:30 pm, Jilla and Kurt will kick off September with some great music. Enjoy lawn games, sidewalk art. Pet and family friendly.
Old Red Hill Jam at Red Hill School House – local live music, open stage 6:30 – 8:30 pm. Dance, play or just listen!
Saturday – 2nd Annual Cornhole Tournament at The Landing – Noon. Teams of 2 will compete for prize money and the chance to wear the Crown of Corn!
Community Garden Club Pancake Breakfast – Saturday morning from 8-10. Russell Crossroads Artist Cabin.
Labor Day Weekend Blowout – at Bezlo's Bar & Grill, live music Friday from the Shades of Gray band and Saturday – Rob Aldridge & the Proponents Band. Comedy Night on Sunday with E. Craig and the Alcohol Break comedians.
Labor Day Bash – Copper's Grill at Stillwaters. Live music from Matt Smith, Sid Phelps and Blackberry Breeze. Music starts around 6:30 pm.
Sunday night, Labor Day Concert at The Amp featuring "Just Got Started Lovin' You" Nashville recording artist James Otto, the pride of Clarke County, country music singer and writer, Ashton Shepherd, local favorites, The Bank Walkers and Rexton Lee. Gates open at 5. Show starts at 6 pm. Tickets are $10.
Happy Labor Day weekend!