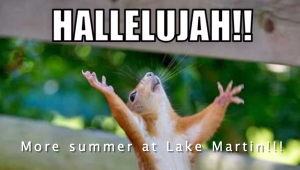 That's right – summer at Lake Martin is not over! Alabama Power has extended the summer water levels until October 15. We had a lot of rainfall this summer at the lake and that means that the water level will be up to summer pool for another six weeks.
September and October are great months to spend at the lake and for the second year in a row the water level is not dropping after Labor Day. Hallelujah! Yeehaw! Woohoo! Yes!
Keep up with the water level – download my free Lake Martin Voice app!