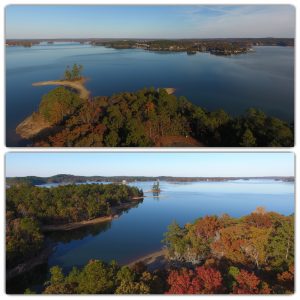 A few weeks ago I managed to pick a pretty fall day to take some photos and videos at Lake Martin. I purchased a new drone and was anxious to try it out.
It did not disappoint! Take a look at the images I snagged with it (see above). These pics were taken in Kennebec, the new waterfront neighborhood on Lake Martin. Those views!
I think that aerial pictures and video are key to properly marketing a Lake Martin property.
First of all, the most important facade of a home at the lake is the lake side. That might seem obvious, but I see so many home designs and so many real estate marketing plans that are centered around the (often useless) street side of the home. People are here for the lake, and want to see what the lakeside looks like. Many times it is hard to get a decent lake side pic because the home is usually a few feet higher than the water level. If it is also a two story home, shooting up from the ground makes for unflattering angles. Getting up in the air a bit for a straight on shot makes all of the difference.
Secondly, an aerial camera gives you the option of showing off the lake home's view, also. DSLR cameras are great for this but a drone that can get up a tad can give a good perspective on the water view.
Another reason that aerial shots are great for Lake Martin property is the ability to circle or at least semi-circle the home from the water in a video. One complaint I hear from buyers is when they have to rely on pictures only, they have a hard time piecing it all together and figuring out how it all works as a whole. Flying a drone around allows you to show the entire home in one continuous segment. Then buyers can dig in to individual photos for more detail.
Of course not all is rosy. The down sides to all of this new technology – it requires a substantial upfront investment on the part of the agent. There is also a big learning curve, not only in how to work the equipment, but on how to edit the media and figure out what to leave in and what to take out. It takes a lot of effort.
Doesn't your lakefront property deserve to have the best, most effective marketing techniques applied to it? Do you want an agent that realizes their importance, has made the monetary and time commitment to these techniques? Do you want an agent that will put forth the effort necessary?
If so, I would love to help you out. Please call me at the number at the top of the screen or contact me here.
The conversation usually starts with me going out to take a look at your property to get some ideas on the likely selling price, suggest some staging tips, and formulating a marketing plan.
I don't charge anything for this, and there is no obligation.