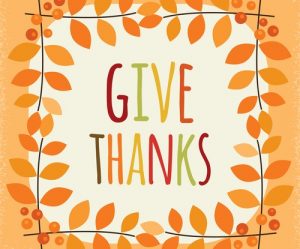 This past year at Lake Martin, and the real estate market specifically, has been one of many blessings.
While I don't think we will be posting record real estate results, I do think it will be a good sales year when we look over our entire history. Maybe 2018 won't go down as number one, but that doesn't mean we don't have a lot to be thankful for at Lake Martin.
In November when I sat down for the family Thanksgiving meal of (brined then smoked) turkey and trimmings, here are some of the things that were on my mind, in no particular order:
Lake Martin escaped Hurricane Michael – I know that we had a few trees down, but the Lake Martin area was extremely fortunate to have been spared the destruction of Hurricane Michael. I join many of the folks around the lake that have been heartbroken at the loss of life, property, trees, and memories by our neighbors to the south. Sure, central Alabama has its weather issues, too. But we have not seen something like the complete and total annihilation and flooding that Michael wrought. I am heartened by the many first responders, donors, volunteers, and neighbors that have pitched in to help. It is a beautiful thing to behold.
The 2018 Fall Full Pool Period was all that – If our area gets enough rainfall, Alabama Power is able to keep Lake Martin at the summer full pool period well into October instead of starting its drop after Labor Day. The Lord sent enough rain, so Lake Martin stayed (pretty much) full until October 15 this year, and it was glorious. September was as hot as August, and we had 880 miles of shoreline to help us cool off. Lake area retailers seemed to have good traffic and were rewarded for their extended hours. When October rolled through, air temperatures just about matched the water's temperature. That's right – it was a Goldilocks scenario – low humidity, warm but not hot air, and warm but not bathwater-like water. I often wonder about what heaven will be like. What will we do? How will we communicate? Will we be able to look back into history and forward into the future? I have a lot of questions about heaven, but I no longer question what the weather will be like. I experienced a taste of it at Lake Martin, Alabama, October 12 – 17, 2018.
Winter is lot looking time – Speaking of the high water levels, yes, it is a fact. What stayed up all year will come down in the winter. But that is okay – I promise. There are lots of advantages, especially to lot buyers, in looking around this time of year. As the water level recedes down to its eventual seven foot winter level, any and all mysteries of the deep are revealed. Summertime is great, don't get me wrong. But there is a certain bit of wondering that buyers sometimes do about the water depth along the entire waterfront. It is always a good idea to measure any spot that holds concern, but sometimes that is tough to do in the summer. Unless you come back by boat and spend a long time taking depth readings, it can be a guessing game. In the winter, there is no guessing. Anyone can walk around in the lake bed at any point along the waterfront and know exactly how deep the water will be come summer. Plus, buyers can examine the lake bed to see if it matches their preferences of eventual dock placement and the soil type thereof. I also like that you can see the lots in winter but still have enough time to build a home and be in by Memorial Day.Cold weather reminds buyers to be patient – I also am thankful to cold weather because I think it helps Lake Martin real estate buyers remain calm while looking at lake homes. Never mind when March and April roll around – spring time lake fever is a hard sickness to shake. Why risk putting yourself in such temptation? It's like putting a teenager in room with a flat screen TV, an X Box, and unlimited FortNite minutes and expecting them not to play video games. As we stroll through a home in our toboggans and Ugg boots, we can be more level headed. Wise buyers take advantage of this low pressure time to look at Lake Martin real estate with less competition. When good decision making prevails, buyers are more secure with their decisions.
I could go on, but I will end here. May God continue to bless us all.
Note: I originally published this article in my monthly column in Lake Magazine. I am proud to write about Lake Martin Real Estate for Lake Magazine and ACRE – the Alabama Center for Real Estate.