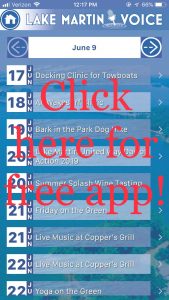 Here are some events happening at Lake Martin for the week of June 17 – June 23. There are lots of choices and something for everyone!
June 17 Docking Clinic for Towboats at Blue Creek Marina. Register and reserve your free spot.
June 18 Russell Marine All Wakesurf Clinic at The Ridge Marina
June 19 Bark in the Park Dog Hike – Wind Creek State Park
June 20 Summer Splash Wine Tasting at Emporium Wine
June 21 Friday on the Green at Russell Crossroads with music from Russell Craig 6:30PM to 8:30PM
June 21 Live music at Copper's Grill in StillWaters from The Pine Box Dwellers 7PM – 10PM
June 22 Yoga on the Green at Russell Crossroads 7AM
June 22 Naturalist Marianne at Russell Crossroads – reptiles and amphibians!
June 23 Music on the Deck at Kowaliga Restaurant from Sid Phelps 4:30PM – 7:30 PM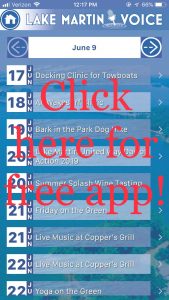 For a full list and more details see our free Lake Martin Voice app – the best way to keep up with Lake Martin events and an easy way to find the restaurants, shops and landmarks.
Don't miss any Lake Martin events – download our FREE APP here. Or go to your favorite app store and search "Lake Martin Voice."
(Disclaimer – events are subject to change!)