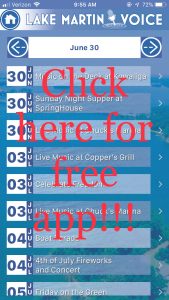 Here are some events happening at Lake Martin for the week of June 30 – July 5th. Yes – it is time to celebrate the 4th of July at the Lake! There are lots of choices and something for everyone!
June 30 Music on the Deck at Kowaliga Restaurant from The Murray Brown Band 4:30PM – 7:30 PM
June 30 Live music at Chuck's from the Kowaliga Idol winners 2PM – 5PM
July 3  Live music at Copper's Grill in StillWaters from Johnny Hayes & the Loveseats 7PM – 10PM
July 3  Live music at Chuck's from Blackberry Breeze 6PM – 9PM
July 4  Independence day themed Boat Parade starting at 10 AM from Kowaliga Marina to Children's Harbor
July 4  Fireworks at The Amp 9PM with music starting at 6PM from The Bank Walkers, a Hula Hoop contest and the Twist contest at 7:45 and then at 8PM enjoy music from The Tyn Tymes
July 5 Friday on the Green at Russell Crossroads with music from Jonathan Bloom 6:30PM to 8:30PM
July 5-6 Arti Gras Art Market at Russell Crossroads on the Town Green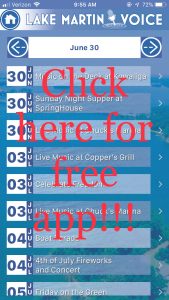 For a full list and more details see our free Lake Martin Voice app – the best way to keep up with Lake Martin events and an easy way to find the restaurants, shops and landmarks.
Don't miss any Lake Martin events – download our FREE APP here. Or go to your favorite app store and search "Lake Martin Voice."
(Disclaimer – events are subject to change!)