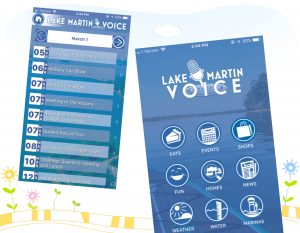 What's happening at Lake Martin in March? Take a look here!
March 5, 12, 19, 26 Trivia Night at Niffer's Place
March 6, 7 Military Car Show at Wind Creek State Park
March 7 Meeting of the Mopars at Wellborn Musclecar Museum
March 7, 14 Naturalist Marianne at Russell Crossroads
March 7 Guided Nature Tour at Russell Crossroads
March 8 Jazz Brunch at Copper's Grill
March 12 Jim Stafford to Alex City
March 13 Women's Conference and Expo in Alex City
March 14 Live music from Jonathan Bloom at Copper's Grill
March 14 Trade Days in Eclectic
March 28 Women on Lake Martin Boating Course

CANCELLED!!!

March 28 Live music from Tone-Deaf Too at Copper's Grill
March 28 -29 Lake Martin 100 Ultra Run

CANCELLED!!!
For a full list and more details see our free Lake Martin Voice app – the best way to keep up with Lake Martin events and an easy way to find the restaurants, shops and landmarks. Don't miss any Lake Martin events – download our FREE APP here. Or go to your favorite app store and search "Lake Martin Voice."