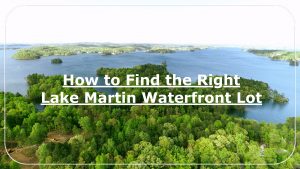 As a full time real estate agent here on Lake Martin, Alabama, I get asked all the time about what is the best way to go about finding that perfect waterfront lot. I grew up on Lake Martin, and have been selling here for about sixteen years, so I definitely have some opinions.
John's Tips on How to Find the Right Lake Martin Waterfront Lot
1. Use a local, experienced real estate agent to help you look. – What do you expect me to say? Contact me here or at the number at the top of the page. Of course, any agent from any market will tell you to use an agent. But, I will say that the Lake Martin market is a little different in that we are in rural Alabama. You simply cannot glean what you need to know about lots by looking at Zillow. It is worthless for our market. Why? Because while it is big about Walk Scores, School Zones, and the like, it also compares off water properties to on water properties to calculate its ridiculously inaccurate Zestimates. There is not an algorithm that is able to crunch the numbers on the things that create value at Lake Martin. Which leads to….
2. Realize how waterfront lots are priced on Lake Martin – The market has shown over the years that waterfront lots are priced by these priorities, in this order: A.) View; B.) Privacy; and C.) Location. A few words on each – A.) View- in my sixteen years in helping people on Lake Martin, no one as ever told me, "I want the most terrible view I can possibly find." Everyone wants the best view that their budget can accommodate. B.) Privacy – Similarly, everyone wants some modicum of privacy. At Lake Martin, you have to consider that a lot that is private at the home site might not be private at the dock. C.) Location – do you want to be in a gated subdivision? Or do you want a cabin-in-the-woods feel? There is a price difference.
3. Where will you place your home? – Sure, you are just buying a waterfront lot right now, but I think it is wise to consider where your home will be eventually be placed. Will that create a really long walk to the water? A steep walk? Where on the lot is the best place to capture the best view? Your future home will also probably need a septic system and its accompanying field lines. Where will those go? Will it interfere with your driveway? Questions like these can be addressed to a builder, architect, or engineer.
4. Think about your dock – The same placement questions for your home should also be asked about your future dock. Additionally, you should think about the type of dock you would like. Do you want a covered dock? If so, does the neighborhood allow it? Some don't. What about water depth? All things being equal, you probably will want to put your dock where it will reach the deepest water. Lake Martin's water level is drawn down about seven feet in the winter, so you will need to keep that in mind, too.
This is by no means an exhaustive list of things to consider as you buy a waterfront lot on Lake Martin. I can tell that I need to write some more on this subject in the future.
Would you like me to help you look for your lot? I would be glad to do so. My name is John Coley, and my contact info is here, or you may use the number at the top of the page to call or text me.