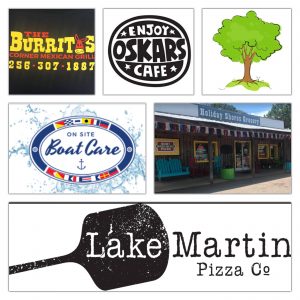 Whether you're calling it corona, or covid-19, you might want to know how Lake Martin, Alabama, is being affected. Well, thus far, it seems we are getting along just fine. Local businesses have followed the recommendations from the state and from the CDC.
I thought this might be a good time to post some ideas of how to help our local businesses. Lake Martin is pretty unique in that it is still a pretty seasonal place. Restaurants and the other industries still make most of their hay in the months of March through September, maybe October. So when a wacky occurrence like this virus pops up, it threatens to upset a fragile situation.
I know there are way more than six Lake Martin businesses that deserve our support. Maybe I can work through more of these later, but here are six for now:
 The Burritos Corner Mexican Grill– (256) 307-1887 – they've been up and rolling for months but lots of Lake Martin fans still don't know about them. They are at the corner of highways 49 & 50 (in the old Louie's space) & serve great Tex/Mex.
Lake Martin Trading Company at Holiday Shores – so much more than a C store. They are my go-to east side spot because … listen to this lineup: non-ethanol gas, quality beer & wine (I'm a confessing IPA snob) Blue Bell Ice Cream, legit fishing tackle, hot pizza, laugh aloud billboards, nice, neighborly owners & staff.
Oskar's – they are consistently good & have been for years due to their stable staff, great menu, and owners that are always there. They've already set up their pick up lanes and payment systems. You could eat your way through their menu for a month and not have to repeat. Oskar's is a gem!
Tristan the tree guy / Albertson Land Works– (256) 827-9148 –  Tristan Albertson does a great job with tree removal. He is licensed and insured and travels all over the Lake Martin area. Trees are his specialty but he also has a landscaping crew that can tackle about anything. So if your spring cleaning list includes trimming or removing trees, or some landscaping projects, give Tristan a holler!
Lake Martin Pizza – confession- we've already visited them for curbside pickup. We went for our family's regular order and they were as good as always. By the way, LM Pizza has just about finished construction on their outside patio. It's not for use now, but post-corona they will have bands out there.
On Site Boat Care – their local phone is (256) 234-5807. They come to you and prep your boat. They do the cleaning and prep work for local boat dealers, so they really know how to make your boat shine. On Site also will create, fit, and install a custom bimini top or boat cover. I have multiple folks tell me independently how satisfied they were with On Site's work.