One of the benefits of the coronavirus at Lake Martin has been to force us to make some pretty great choices.
Like- what do we want to do today? Go turkey hunting? Go hiking? Fish for some native redeye bass in the creeks? Fish for some striped bass in the lake? April is pretty much the only month on the calendar when all four of these activities are excellent at Lake Martin. In fact, I would go as far as saying the Lake Martin area in Alabama might be the top choice in the nation if you want to do all four in April.
I have tried my hand at striped bass a couple of times in the past few weeks. I like to get in the middle of a big slough, and, using my binoculars, scan for crashing bait. I have been able to get on a couple of schools of shad that the fish were forcing to the top, but could not close the deal. I am pretty limited because I am fishing from a kayak. Really, I think you need a gas powered motor to get up and get to them in time.
Without a doubt, when it comes to striped bass fishing on Lake Martin, I think David Hare and his crew at Alex City Guide Service are the experts. They spend more days on the water than anyone and they are a professional outfit. That's why I always pay close attention to his monthly advice.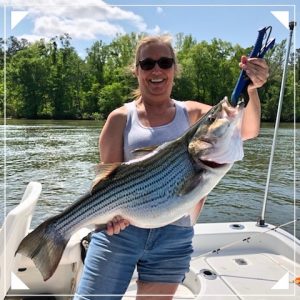 Here's David's column for April, 2020:
4/15/2020
490.26 ( Full Pool 491.00 )
Surface Temp 70 + or –
Clarity / Clear

Where do I start? What trying times we have seen and are still seeing when it comes to the Pandemic/Covid 19. Our guide business along with thousands of other nonessential businesses came to a complete standstill April 03, 2020 due to a mandatory stay at home and 6ft social distancing issued by Alabama Governor Kay Ivey. The good news is our hope is by the time you are reading this (May 01,2020) the mandate will be lifted and our business will resume charter trips immediately. We have implemented some guidelines to keep our clients and our guides as safe as we possibly can during these times ex: limiting number of clients per each guide boat, sanitizing each boat and all the fishing gear after each trip, keeping hand sanitizers on each boat and are very open to clients wearing personal protective gear (mask and gloves) if they so wish to. Our prayers and thoughts have been with our clients and their families during these times. Please continue to be safe and a BIG THANK YOU to the hundreds that have called, text , fbooked us, and or emailed us to just to say hello and check on us, we truly appreciate each and everyone of you.

Now to fishing! April reported crappie to be some of the best trolling catches as Lake Martin has seen in awhile. As I'm writing this most are reporting the crappie haven't moved to the bank yet but my predictions are now that you're reading this report that they are definitely on the banks and in your favorite brush piles.

Spring bass fishing has been and is continuing to be awesome. Most are reporting big catches of spotted bass. Seems like everyone that bass fishes has not had a problem catching a limit.

Stripers have been very unpredictable this spring. I contributed ( just my opinion) the tuff bite to all the rain we had earlier in the year which kept water levels fluctuating continuously which in turn kept a lot of the better springtime areas muddy or at least highly silty which Lake Martin stripers avoid if at all possible. Now don't get me wrong, us along with a handful of individuals have caught some pretty big stripers lately including some our catches have weighed in above 36 lbs. My prediction for 2020 that May and early June is more than likely going to be the time that the 40 + lbers are going to be landed.

Several techniques should be successful in May for stripers. Your best go to baits are going to be live shad and live blue back herring. (Yes, local Lake Martin herring are legal to fish with now however they must be caught on Lake Martin and fished with without transporting them.) Early May try some of your favorite topwater lures at daylight then toward later part of May you may want to start trolling for the deeper bite.

If you haven't already rescheduled your charter trip with us please do so ASAP so we can get you back out on the water to enjoy this great fishery that we have here on beautiful Lake Martin.

Stay safe my friends and catch one for me.

If you would like to schedule a fishing trip with David Hare give him a call 256.401.3089 or check out Alex City Guide Service .