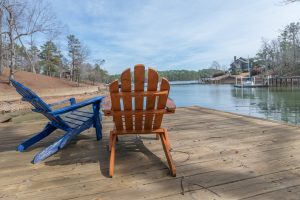 Are you good at negotiating?  Do you always get exactly what you want?
Unless you are an extremely loud and motivated toddler, or the IRS, chances are that you don't always get what you want when you negotiate.  Hey, that's ok. Me, too. The very word "negotiate" presupposes some give and take. There will be some minor wins and losses en route to large goals.
I think it applies to people who are looking for a Lake Martin waterfront home. There is bound to be some aspect of the process where everyone is going to have to settle. I do think it is wise, though, to determine up front what your "non-negotiables" are. These are the issues or aspects of the home that you have determined that cannot be forsaken.
As un-cool and un-dreamy as it may sound, I think your first non-negotiable should be your price range.
Why? Because your price range will determine just about everything else on your list. It will probably cause you to prioritize even your non-negotiables. I know that sometimes it is not fun to think about money, but it is a crucial first step.
Occasionally, I will talk to buyers that are a tad coy about their price range. It feels as if they don't want to tip their cards or something. I have even had a few that have told me, "we don't have a budget." When I have responded with, "Cool! Here's a home for $3 million. How about it?" they have said, "Whoa! No! That's way too much!"  OK, I think. Then you do have a budget…. and that is more than alright. Let's talk about it!
Once the price range issue is settled, then comes the fun part. I encourage buyers to envision themselves at their Lake Martin home and imagine how they will use it. How will you spend your time? Whom will you spend it with? I have said it many times in these pages, but I think those buyers that know themselves fair best.
I ask my buyers to try to fill in the blanks on sentences like, "If nothing else, when I am at my lake house I want to be able to : ________." I don't think you should say something like have three bedrooms or have seven feet of water depth at the dock. Those are just data points. I think you should talk in terms of experiences to help clarify what you want.
For instance, when someone says to me, "If nothing else, I want to be able to drink my morning coffee at sunrise and watch the water," I know that a private, calm setting will be ideal for them. It tells me that I need to help them look for homes that are away from the hubbub of boat traffic and also have great spots for some personal space.
Likewise, if a potential home buyer were to say, "If nothing else, I want to be able to host my entire family for our annual Fourth of July cookout," that is extremely valuable information. I know that this person's non-negotiable is the ability to be the center of social activity. This buyer will likely need lots of parking for guests at the street and possibly at the dock. The home should be set up for entertaining – a large, open kitchen and lots of room lakeside will allow them to pack in the people.
Still other buyers have said, "if nothing else, I just want a place to sleep at night after we have spent our days on the boat." This tells me that they see their Lake Martin experience as ideal when they are out on the water. They probably will not prioritize a lot of square footage in the home. Dock access and water level will probably be important to them because it allows them to be on their boat the absolute most.
Searching for homes can still be a challenge. Most agents won't come out and say in an advertisement that a home has rude neighbors or a tiny amount of parking. However, Lake Martin homebuyers that have spent some time thinking about their non-negotiables will have a far easier search. They have spent the time clarifying what they think would be their perfect lake experience.
Note: I originally published this article in my column in Lake Magazine. I am proud to write about Lake Martin Real Estate for Lake Magazine and ACRE – the Alabama Center for Real Estate.