Lake Martin, Alabama, is becoming a great hiking destination.
Back in April, I had the chance to hike two new trails on the south side of the lake – the John B. Scott Forever Wild Trail and the Cherokee Bluffs Dam Railroad Trail. Both trailheads are located at the same spot – just south (and within view) of Martin Dam, on the west side of Yates Lake. The trails are maintained by the local hiking group – Cherokee Ridge Alpine Trail Association aka CRATA. Click here for the link to the trails on their site.
If you would like a PDF of these two trails, click here.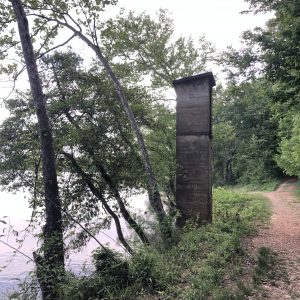 We really enjoyed these trails. The John Scott Trail is a loop that takes you around in the woods, some of it crossing over in to the Yates Lake WMA. It is a beautiful forest that offers views of Yates Lake, plus huge old trees and some birding opportunities for my fellow birders out there.
The Railroad trail is a straight shot away from the trailhead that follows – you guessed it – an old railroad bed. This makes for relatively easy walking that was appreciated by our group.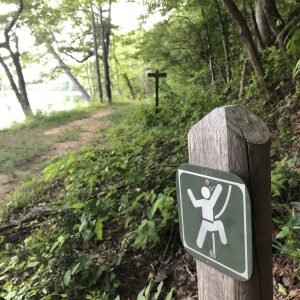 One big surprise to us was the fact that there are some rock climbing spots, as well. Routes have been mapped out and anchors have been put in on a few big boulders. I am not a rock climber so I did not try it, but we bumped in to some folks we know that are and had given it a shot. They gave it a thumbs up!
So if you are going to be around the south side of Lake Martin any time soon, I would encourage you to stop by and take a look, even if you don't hike. Also, please consider supporting CRATA as it is an all volunteer association.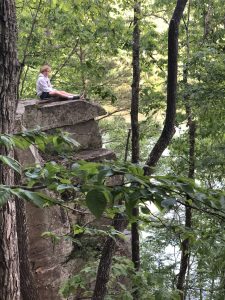 See you in the woods!