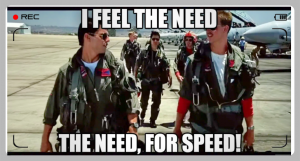 Tom Cruise is a specialist in starring in a certain type of cheesy movie.
It's the kind where there is really no plot. The movie is really just about Tom Cruise glorifying whatever profession he is portraying. Think about it. The whole plot of "Top Gun" can be summarized as "Navy pilots are cool." Similarly, "Days of Thunder" is really only about "NASCAR drivers are cool." That's it. And…. that's okay.
I am not making fun, I promise. Those types of Tom Cruise films are just fine and we can plumb even their shallow depths for lessons to apply to today's real estate market here at Lake Martin.
Recently, the sister of my college roommate called me up and wanted to see a lake home. She loved the home and could tell from the pictures that this might be "the one." When I took a look at the one she picked, I knew we had better buckle up. This home had just hit the market, was priced right, was in a very popular area, and was cute. Like, Chip and Joanna cute. I knew we had to act fast. We had, to quote Maverick and Goose, "a need for speed."
I found myself using car racing analogies with her to describe the situation she was entering. I said, "the Lake Martin real estate market right now is like a NASCAR race…. everyone is already going 200 miles an hour and there will be eight cars within a foot of you. You are jumping in with two laps to go. Any flinch, any hesitation and not only will you lose the race, but there will be a ten car pile up." It would take Cole Trickle's nerves of steel, but she had them. Her mom has been an excellent agent in Birmingham for a long time so she has witnessed the racing world from the inside. The story had a happy ending because she ended up "winning" the home in a photo finish!
If you are considering buying property here at Lake Martin this summer, what can you learn from this? Are things moving so fast that it is impossible to make a good decision?
Buyers should realize what is going on with the market. They need to be ready to act when they see something they like. No one should rush into a rash decision, so the way to balance that is information. Acquire it. Do your research so that when you are ready to act, you have the confidence to do so. I like to say, "information is the antidote to anxiety."  If you have done your research on the market, studying not only what is for sale now, but what has sold in the past, you will be ready to hop in the race confidently.
Buyers also need to realize there is not a lot of time to mull over a decision. Gone are the days where you can look, find a favorite, and think about it for several weeks. If you tell me "we need to think about it until tomorrow," I will quote my fellow lake agent GW Warren and tell you, "someone else thought about it yesterday."  That is all the more reason to do your research on the front end.
So, with a crazy market like this sellers can just represent themselves and sling out any crazy price, right? What do you need an agent for when buyers are clawing at the door? This is prime FSBO time, right? Hang on just a minute.
Sellers are usually pretty well in the know on the price their neighbor got for her home. But what about the home across the way? What about knowing three other really similar homes that are about to come on the market? Don't try and save a few dollars in agent commission and let it cost you three times that in sales price.
Also, if sellers price their home too high (yes, that is still possible in this market) and the home sits there, that is a huge problem. Memo to sellers: buyers are pretty smart, too. They realize that 2019 and 2020 have been ultra-hot markets. If an otherwise nice home is not selling in this environment, it invites the dreaded question of, "What is wrong with it?" The longer a home sits unsold, the larger this question looms. Probably nothing is wrong with the home, but the perception that something is awry can be equally deadly. It is really hard to get out the message to address the unasked question.
One last observation I offer relates to when you, the public, talk to real estate agents right now. Please show us some grace. We probably don't deserve the your kindness and understanding, what with our glamour shots, constant insistence that we are so busy, and our shameless self-promotion. But, please know that it is truly pretty crazy right now. To extend the racing analogy, it is like hopping in on the radio on the last few laps of the Talladega 500. Everyone is screaming at the top of their lungs to be heard. Directions are being barked back and forth. It is loud, but it is fun!
So if your agent doesn't return your text message within seven seconds, just know that they are probably thinking, "Help me help you!"*
*"Jerry McGuire" is also a Tom Cruise movie. The plot is, "sports agents are cool."